---
Hanging out at the woodpile the other day I noticed a little fella crawling under the bark of a split piece of elm. Walking over and lifting the roof to his ancestral home I saw him disappear down the rabbit hole and then beheld the patterns you see here. Dutch elm disease at work. Beautiful and deadly.
Taking the chunk upstairs, we took several rides on the microwave merry go round till the popping stopped and then looked at it for a minute. With the natural hollow already at its back I imagined a simple vase with not much work and so drilled and rasped out the centre to accept an over-sized test tube.
The patterns themselves are fascinating. Momma lays the eggs and then everyone goes off in search of adventure, staying strictly away from each other though.
99% of them come to naught, but 1% thrive and the eaten trails they leave behind grow wider and wider and more convoluted till they retire in satisfaction to the interior. Ready to infect again.
One pattern that I see on the right is that of a drunken man, legs splayed, sitting at an outdoor table with a stein of beer in his hand. The spilled beer dribbling down his leg to the street leads to the glory hole. Too allegorical?
This was made for my mother, a highly awarded horticulturalist for the last 20 years of her life.The tulips for her are a faint hope for an early spring.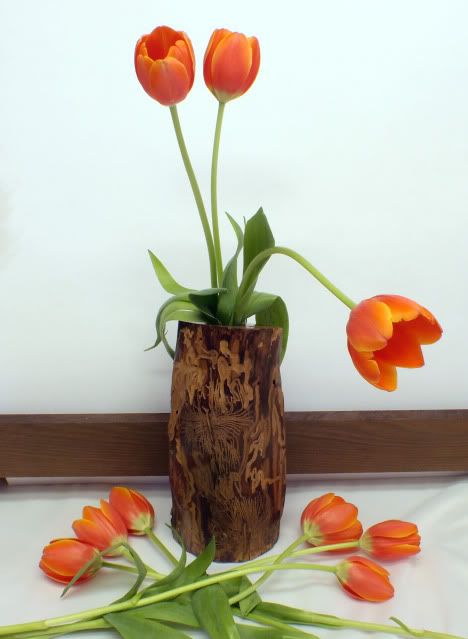 If you do make something like this, be sure to thoroughly dry the wood. My first tube was crushed to smithereens when the wood shrank.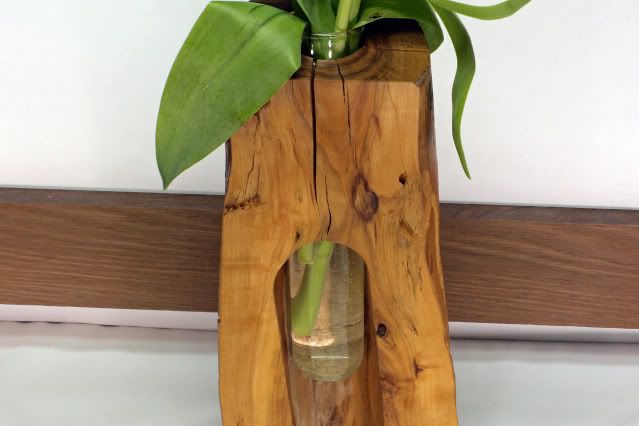 5" x10" x2 3/4" About 3 hrs.
A few coats of tung oil, un-rubbed or waxed.
Build on LJs.
gene
A fine short video discussing the disease.
http://www.youtube.com/watch?v=jzRuVWEx6Mg
The beetles occupy wall street and environs.
http://www.ny1.com/content/top_stories/50454/asian-longhorned-beetle-discovered-in-tree-in-central-park
Just the facts ma'am.
http://www.edmonton.ca/for_residents/pest_management/red-elm-weevil.aspx
A possible solution.
http://www.dailymail.co.uk/sciencetech/article-1284637/The-Dutch-Elm-Disease-destroyer-Man-breeds-tree-resistant-deadly-blight.html
-- gene@toronto.ontario.canada : dovetail free since '53, critiques always welcome.
---
---
---
---