---
The table—- sorry its out of focus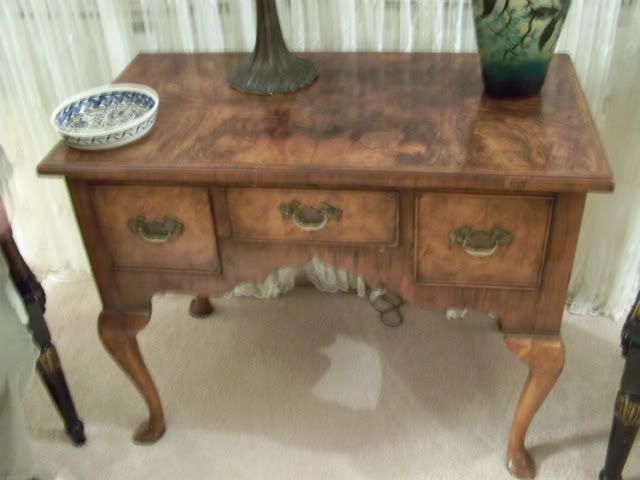 This was an interesting project. The customer set a flashlight or something on the table and the batteries leaked, burning a hole in the veneer. He tells me that that the table was made in the 1700s to the mid 1800s he would have to look it up but it was a family heirloom. One of the problems was that he managed to find a piece of veneer and armed with Elmers glue, installed a patch. At least he did not get a can of poly and apply liberally.
A little history on this piece, shellac finish, we thought it was walnut burl and thankfully, it is. The top has eight panels and had knots in the panels. These knots were patched at the time of creation and matched – a litttle, in the pattern. As it turns out, this is a good thing for me because the damage included part of one of the patches.
The damage with the customer's patch.

At this point, I have done a little veneering, all with veneer that I made new and nothing period or repairing. The customer has been wanting me to fix this for about a year but I have been putting him off, mosly because I was researching as much as I could. A few things that I wanted to make sure was what glue was used, and what finish, the customer was always told that it was walnut veneer. I sent the pictures above to Mr. Kleeman (a fellow LJ and a tremendous craftsman), and confirmed that it probably was walnut burl. He was also very kind and offered a number of suggestions and ideas that I found very helpful. Thank you -
One thing that I kind of knew and Bob confirmed was that I really should match adhesives and finish. This allows for tempurature and humidity changes along the same lines as the original. An alcohol test confirmed that the finish was shellac.
So first things first – and I recommend this to anyone doing this for at least the first ten times or so – make a test or two or three. I did this three times and even then had issues (I'll explaen later). Cut a piece of veneer to a piece of pliwood or something using the same adhesive you are going to use, in this case I was using hide glue.
A quick note – it says to use good ventilation for this glue – do it. Once the smell of hide glue gets in your sinuses, it is there to stay for a few days and it kind of makes everything you smell have the smell of hide glue. But the stuff really works.
Getting back – I cut a hole in the test piece and glued a non-matching piece into the hole with elmers.
In this picture, the third time, I used hide glue.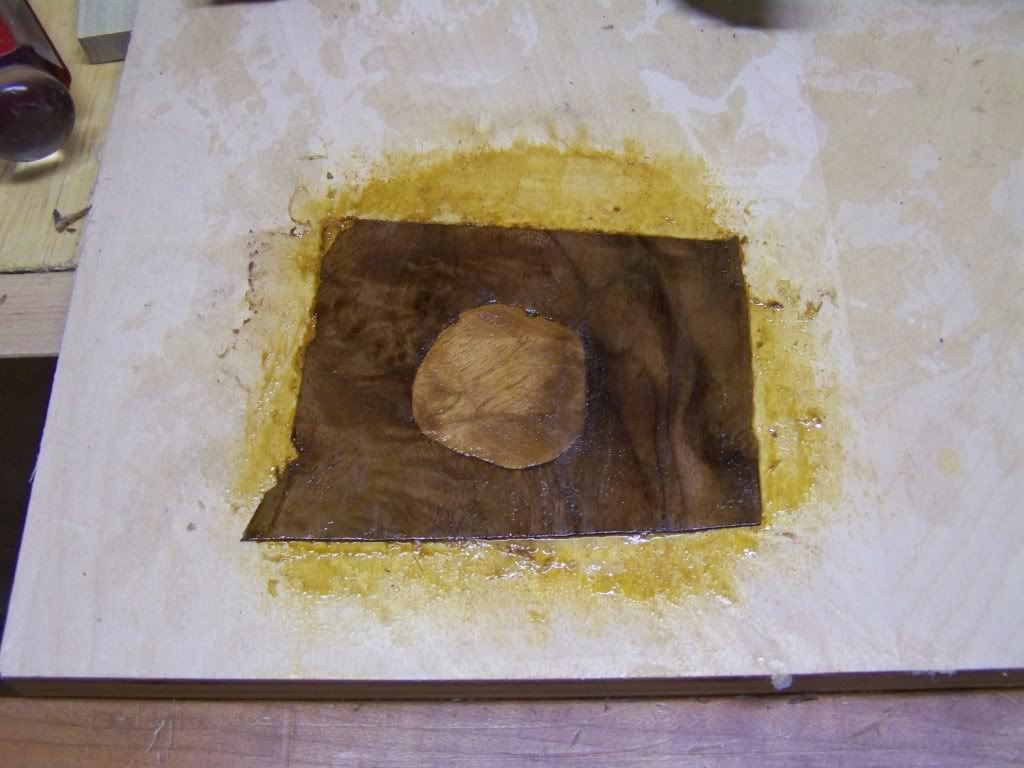 Now, I removed the patch that didn't match and put in a new piece – looked like this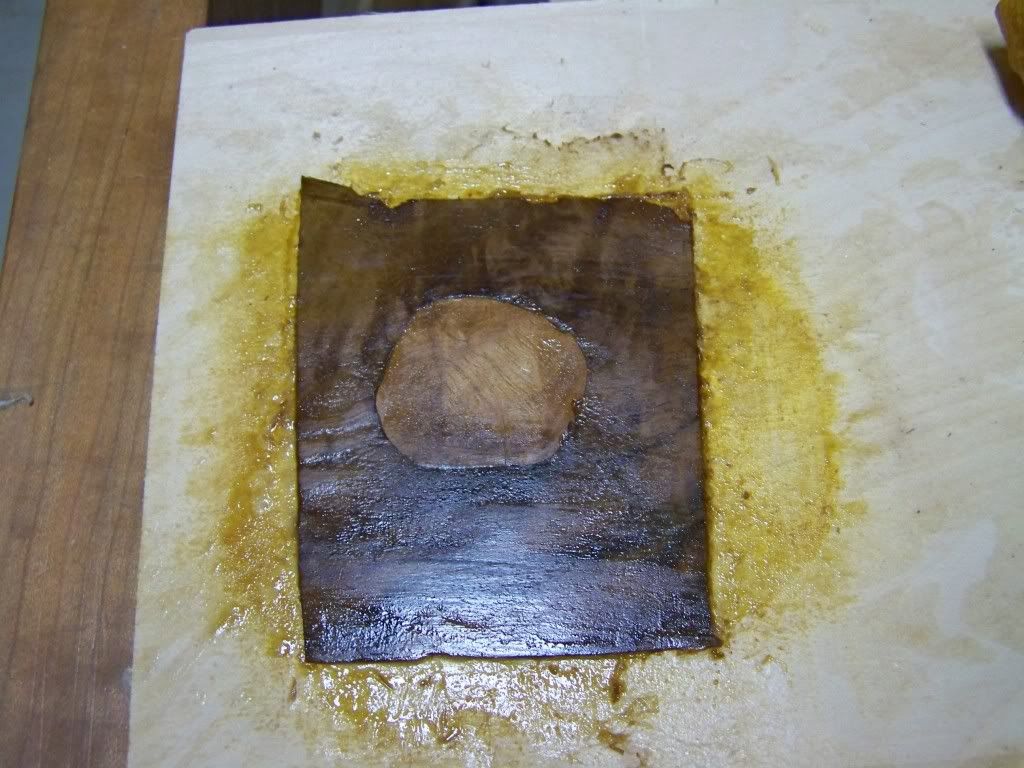 Once I had the porceedure to a reasonable level, time to make the jump to the real repair.
I removed the patch and the glue. Since the customer did not neutralize the battery effects, it had eaten into the base wood (mahogany) a little and had to be removed and a filler piece installed. The orginal hole was enlarged to get all of the newer glue removed and cleaned up.
After much consideration, I cut a piece that would look perfect for the patch.
I cut this this to be a perfect match, lined up the grain, got the glue hot, applied the patch an then everything went wrong. The original veneer had been sanded, and then, as I was applying the patch, the glue was too thick, the glue cooled too quickly, the patch expanded, and the patch came apart in little pieces. Did I mention that this glue is VERY sticky – to everything. So, back to square one, find a new piece to cut out and make a new patch. This time I cut two more where the burl and lighter woods matched up reasonably well.
I didn't allow for the expansion as I was pressing down with the veneer hammer so this was added to the mix.
I changed my glue applicator to an acid brush.
Time to try this again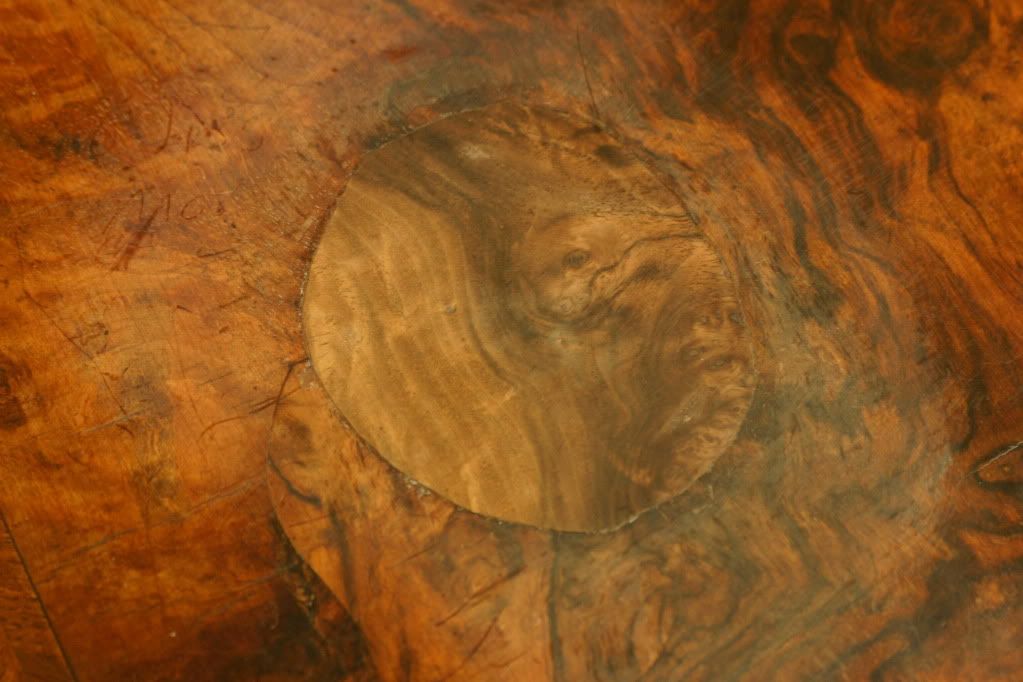 After covering with wax paper and clamping overnight. it was time to see if this was another practice run.
There was still a very an unevenness from where the customer used 200 grit sandpaper on the veneer, thankfully not through. After sanding the patch smooth using 400 and then 1000 grit paper, the patch was going to stay. The finish build was to start.
There are a number of shellac products out there and there are serious differences to the quality of the finish – just saying. From the color and the time frame, I figured that this was amber shellac, so I had some shellac in a can and applied it to my test piece (which was all dark) and the finish looked murky or cloudy. Bought some amber, de-waxed flakes and let it get happy, serious difference here. The mixture was clear, nice color, a real step higher.
Anyway, back to the project, applied some of the new shellac in a french polish method and god a nice build, matching the original thickness and let dry.
See a problem here? The colors are not coming together at all. Everything was going through my head, was this really a cherry burl or similar wood? Should I mix garnet shellac?
Well, time to remove the finish and start over. I mixed a little garnet dewaxed shellac with the current shellac and really didn't like the look on a test piece – cloudy and wrong color. THen is occured to me that there was a pronounced attitude for many years that if it was dark, make it red. As I was looking at the top, there are a number of areas that have a distincly red hue. Well, back to the store to find a red dye that works with oils and shellac – found one. I went back, added one drop to about 1/2 cup of mixed shellac, applied to a test piece and the match was as close to perfect as I was going to get. Carefully, I applied this mixer to the patch only and let dry. Then, I used the non color added shellac to the area to blend into the old. The result – I will let you decide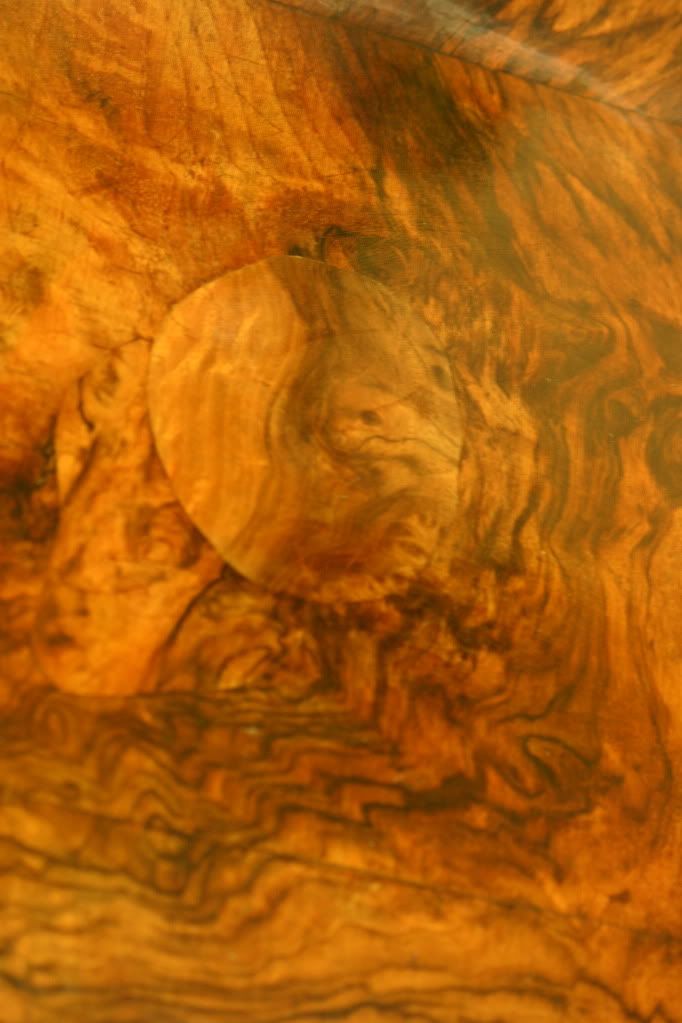 Tomorrow, after this has had time to harden a bit more, I will go ver the entire top with rottenstone and then a carrnuba wax before I take it back to the customer. The project picture is of most of the top with all of the patches including mine.
Thanks for looking, hope there is something in here that you can use is your projects.
-- David in Damascus, MD
---
---
---
---