---
Here are two small games for your building and playing pleasure, sure to fit your wood and time budget to a T. All alliteration aside, both are fun to play for adults and kids alike and easy to build from scrap.
First up is Tapatan, an ancient game from the Philippines that superficially resembles that hoary old children's classic, Tic Tac Toe. But while Tic Tac Toe is quite boring to anyone older than a first grader, Tapatan is anything but. Using the same grid – on my own build just being imaginary – three pebbles each are placed alternately with the aim of forming three in a row. But after all pieces are down, then they may be moved to any adjacent point. "There are 1,680 ways for each player to drop each of their 3 pieces on the board".(Wikipedia) Quite a bit more than your childhood game.
House rules sometimes say you may not initially drop on the centre point, or, you may not win diagonally, or, only diagonally. You may also win by trapping your opponent in a corner.
My particular version was fashioned from a single block of something or other tropical hardwood, waste drilled out and then finished with a very very long router bit. A sliding dovetail ebony lid completes it with a bullet catch added for security. The obverse side is dimpled on the points for playing on the bed or in the car, as polished stones will slide very easily. And I really can't resist, but in Sweden this game is called Tripp Trapp Trull.
Next up is a game more commonly referred to as The Towers of Hanoi. A single player game, with sideline kibitzing or coaching often enjoyed, it has the object of transferring all the discs from one post to another but never placing a large one over a smaller one. You may play from one to eight pieces as your skill increases but with the stiff warning that the number of moves increases exponentially. To illustrate, I'll let Cut-The-Knot.org take over here.
"The puzzle was invented by the French mathematician Édouard Lucas in 1883. There is a legend about an Indian temple which contains a large room with three time-worn posts in it surrounded by 64 golden disks. Brahmin priests, acting out the command of an ancient prophecy, have been moving these disks, in accordance with the rules of the puzzle, since that time. The puzzle is therefore also known as the Tower of Brahma puzzle.
According to the legend, when the last move of the puzzle is completed, the world will end. It is not clear whether Lucas invented this legend or was inspired by it. If the legend were true, and if the priests were able to move disks at a rate of one per second, using the smallest number of moves, it would take them 264−1 seconds or roughly 585 billion years. It would take 18,446,744,073,709,551,615 turns to finish".
Well. Your playing time will be considerably shorter I should think. Four discs takes 15 moves for a perfect game, eight discs requires 255. Buy a cheap handheld counter if you want to go crazy.
My own game is re-named from the original because I found a stunning piece of discarded white ash, just the right size, containing a figure resembling the boy king's death mask. A bit spooky, really.
The pegs are cherry and the "discs" are rosewood and bird's eye maple.
Traditionally, these pieces were circles, but squares are so much easier to fabricate and make pretty than circles, unless you're a turner of course. My initial run of hole sawed discs were a bear to clean up and so abandoned.
The finish on both games is Tried and True with varnish, Goddard's wax.
Tapatan 5"x5"x1" About 3 hrs.
Towers 11"x4"x3" About 4 hrs.
Build on LJ's.
gene
Some links:
Tapatan history:
http://www.gamesmuseum.uwaterloo.ca/VirtualExhibits/rowgames/tapatan.html
Towers game online play with optional computer solutions:
http://www.mazeworks.com/hanoi/
A close up: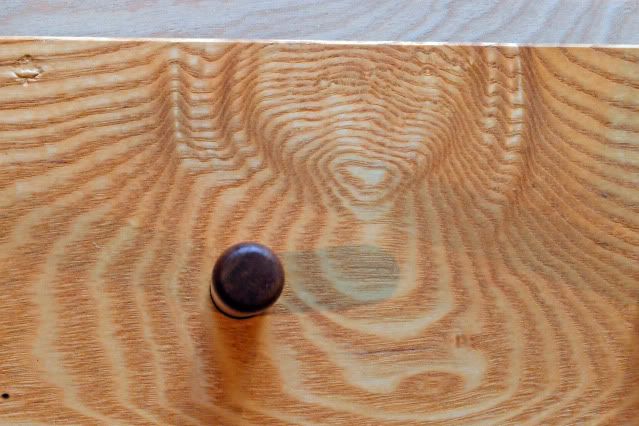 On the road:

-- gene@toronto.ontario.canada : dovetail free since '53, critiques always welcome.
---
---
---
---