---
I love pens. I really love pens. Even before I learned to turn them I've always appreciated a nice pen and have "invested" a couple times in a nice Mont Blanc.
When I discovered the Bethlehem Olive Wood I knew I'd turn a lot of pens with this wood, I love it. As a Christian I find it amazing that these trees were bearing fruit in Jesus's day and today I'm making pens from the trimmings.
I also use these pens as gifts to special friends and always add a story of what I saw in the grain pattern or why I turned their pen 'just so'. I also enjoy sharing my hobby and many times have had friends over to make pens for themselves – they are always elated to leave my garage with a pen they made themselves.
So – here are some pictures of some pens I've made or I've helped others to make. One day I'll make one for myself but for now the Lord keeps telling me to give them away! :-)
The ones in the gift boxes actually have a much nicer shine that what the picture shows…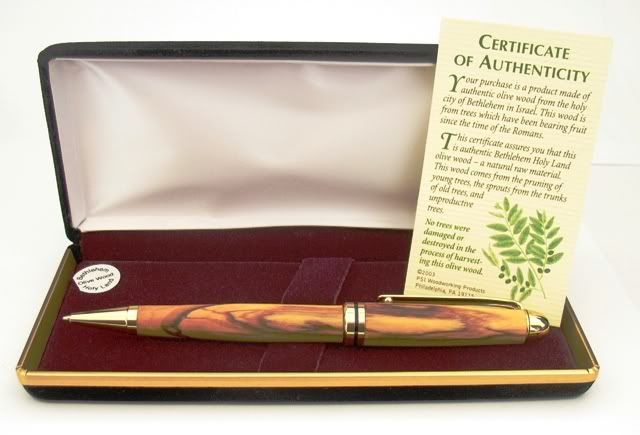 -- Tim D. - Woodstock, GA
---
---
---
---