---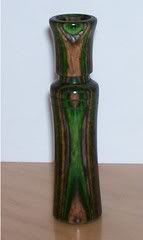 I love making game calls, and here are a few of them. The first 2 are Coyote calls made from Deer Antler, the 3rd is a Coyote call made from an engineered material, look at the "eye" in the top of the call. For the calls made with wood (coyote calls are as well, just not these) I harvest the wood myself from tops, crotches, etc., which allows me to get some special pieces you may not normally find. It also adds a little something extra to the call I think, as well a little more pride, satisfaction, etc.
The icing on the cake is when you call in either a Predator or a Turkey with a call you have made yourself.
Thanks for taking the time to look them over.
Dave
-- Upstate New York -- Do what you love and never work a day in your life.
---
---
---
---