---
Hello Everyone!
Since this will be my first post, let me introduce myself.
My name is Kyle, im 20, and fairly new to the realm of wood working.
My past experience is all from High school. But this is where i become hooked and created my first two projects.
I learned allot from my shop teachers and I also owe them allot. They helped me work through my crazy ideas and turn them into practice.
But enough chatter, here is My first project.
2008-2009
Junior year of high school
Woods Class Level 2
Top: solid walnut, with a dark walnut stain
Legs 400pcs 3/4in oak strips with golden oak stain
yes i said 400 hand sanded, and routed oak strips
skeleton: pine and MDF
Fresh out of Shop #1 I wanted to create a desk. Not just any desk, something different and interesting. I didn't want to buy a plan and follow someones else's idea. My shop teacher had a simple rule, "if you can draw it you can build it" Well ok then, lets get busy. I drew out a plan that he had never seen before, especially in a the level class i was in. Generously he said if i work hard and keep at it im allowed to build it.
My idea was an L shaped office type desk. But with a a few additions and changes to typical layout.
My desk would feature a central sitting position, instead of the left or right sides of the desk.
Draws that would pivot out instead of slide.
An Under hanging cabinet that would house the computer with a tray to pull it out on.
Open face shelves, curved solid legs, and other small things.
Construction started simple.
A pine/ply frame was built:

A Plywood and Flexy plywood would serve as the base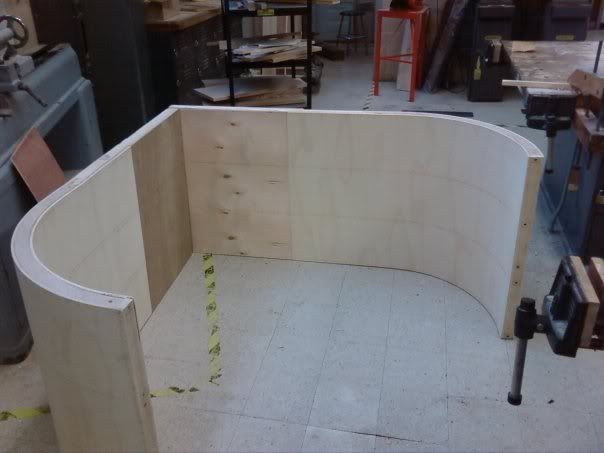 The inside and outside of the legs would be cover by 3/4in oak strips. Routed and sanded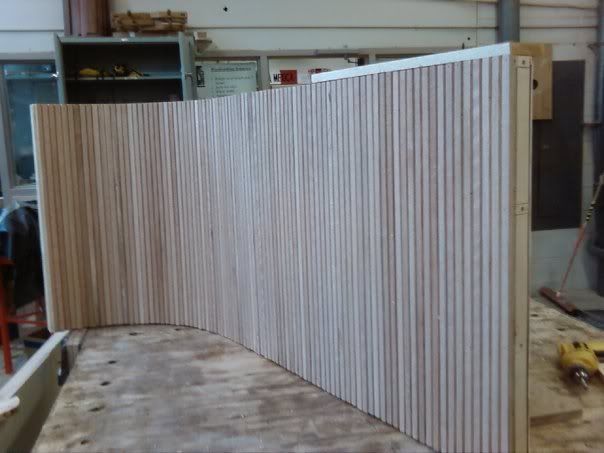 Me and my shop teacher plan out how big the table top would be and where you would sit at the desk.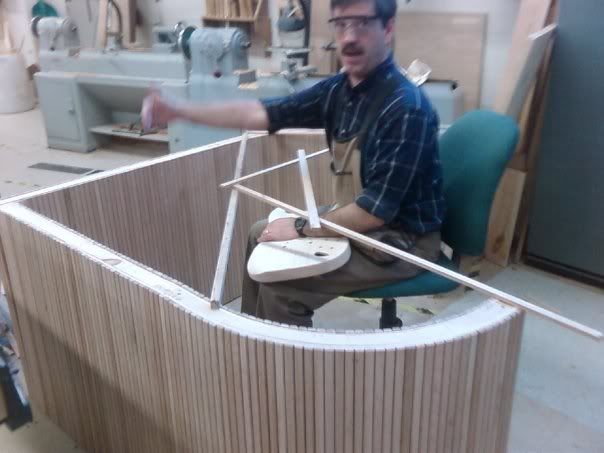 The open selves That would be mounted underneath

The draws that would also be attached underneath

The top cut and being placed to measurements

The under cab would feature a tambor sliding door and a tray for the computer.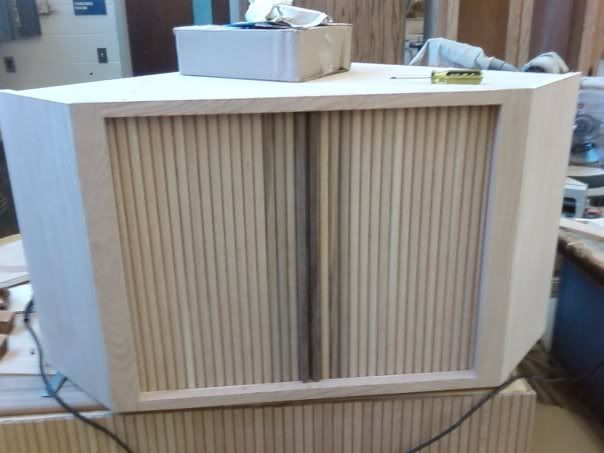 With all the components ready, it was time for staining.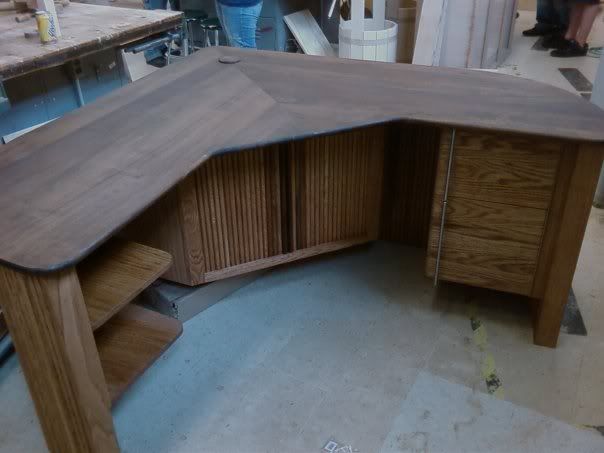 All in all i spent all of my spare time working on this. I was the most watched and anticipated project in the school. My teacher had never seen the amount of work, odd challenges, and dedication in a long time, put to a single project. I was featured in the Northern NJ Regional Craftsman fair in Ledgewood NJ.
I was awarded a 1st in category. funny part was i was actually in my own category, due to size and complexity.
The judges thought i had bought the strips that line the in and outside of the legs. There were 400! strips exactly.
I was also awarded "industrial arts student of the month" three times that year.
Ending my senior year i was awarded the "industrial arts distinguished Student award" for my work in the shop through out my career.
So there she is. My first woods project ever, and the desk i sit at everyday.
Check out my second Project:
http://lumberjocks.com/projects/56232
-- -Kyle, New Jersey, Novice Craftsman
---
---
---
---