---
...So I'm a hobby woodworker like a lot of people. And I commit to projects to help friends and relatives and try to make a piece for myself when I can. As with many things, woodworking has snowballed into a passion, so when a good friend was building a new home for his young family, he asked us to build his dining room table and chairs. I really had to think about it for a long time. I'd never attempted a project this big, and he was going to be stuck with it no matter how it turned out! Anyhow, I decided it was a good opportunity to try something new, and I always wanted to try a project like this.
So the specs he and his wife gave me were:
- Quarter sawn White Oak
- A unique finish
- Craftsman style but a unique design
- and…BIG!
So off I went….I got every book I could find on tables, chairs and craftsman design. I ended up designing a nine foot (by "designing" I mean stealing ideas from everyone) monster based on Rodel & others. For the finish, I opted to ammonia fume everything.
I picked up 500 bf of 8/4 White Oak (I had no idea how much I'd need), 3 gallons of 30% ammonia from a blueprint shop and went to work. …200 hours later (like I said – I've never done a project like this before) I had a dining room table that I was pleased with. The fuming doesn't color sap and heartwood evenly which is what they wanted. I used 2 coats of sealer, 7 coats of poly and a final wax for the finish.
This thing is HEAVY! I wouldn't venture to say what it weighs, but I've thrown my back out twice moving the damn thing. The project is finally done! I just completed the chairs (six side chairs, two end chairs) and I will post the whole thing on the project page once they are in his home and I can get some good pictures. They loved the table, which is what is important to me.
I'll try and keep this up to date with the "chair" process (I've discovered that chairs are challenging for Schroeder…)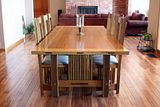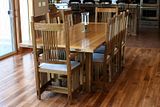 -- The Gnarly Wood Shoppe
---
---
---
---