---
It is untrue and unfair to say that only little kids like or want a piggy bank. Big kids too like dropping money into a hole (like woodworking) and saving up, many of us have fond memories of this I'm sure.
All of the banks pictured here were made for and given at Christmas last year to adults in my family. Upon opening their gift the reaction was always the same – a quick intake of breath and a very, very broad smile. In fact they couldn't stop smiling. That's what we work for sometimes isn't it?
Most of these designs came from two simple, heartfelt books, "Making Wood Banks" and "Wooden Banks You Can Make" by Harvey E. Helm. He was a Grade 7 shop teacher in Darien, Connecticut and while there he collaborated with his students to come up with 32 variations on this theme. There are full size line drawings of most parts in the books, others are on a grid so that you may scale them up. They can be made simply and exactly to plan or you can modify them or embellish them with exotic woods from your scrap pile. Either way they are a sure winner. I made mine mostly fabricated on his standard rectangular form using overlays, though he has many that are delightfully animal shaped. Take a look on Amazon and others.
Some notes on construction:
The television bank has an open slot on the bottom to enable changing pictures.
The finish on most pieces is spray lacquer as the intricacy and number of appliques forbade using my meager skill of brushing or hand rubbing. Hand painting of the colored parts though, is preferable to spraying as brush marks enhance the appearance IMHO. That and my daughter helped paint.
The river bank uses a portion of a photograph of water, cut to fit under the edges of the walnut and secured with double faced tape. It may fade over time and need replacement. The clouds run over the moon.
The tree bank, my own design for a favourite nephew, was made by high angle book matching an open grain wood, scaling a line drawing up and down and then scroll sawing. They are arranged to suggest the slope of gentle hills, with a river running through it. Sharp eyes will also see they are all the same tree, just reversed.
The flower bank, given to my mother, and the television, given to my daughter, are my favourites.
Rectangle 5 1/2" x8 1/2" x3"
15 Pieces About 60 hrs.
Build on LJ's.
gene
Together for the last time, multiples not fully shown

for the no worry set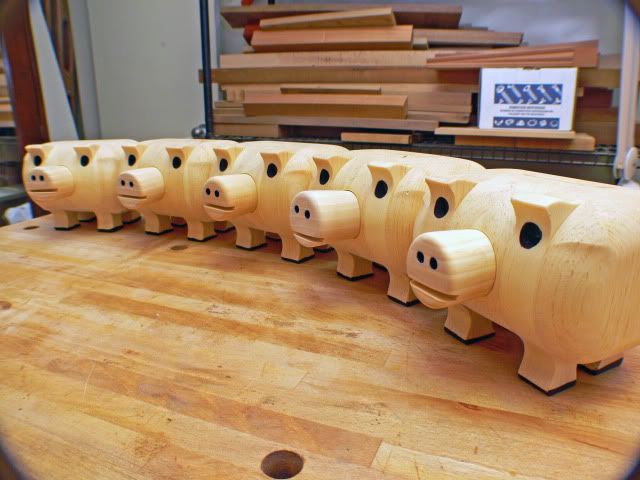 I ran out of room in the post


and an animal example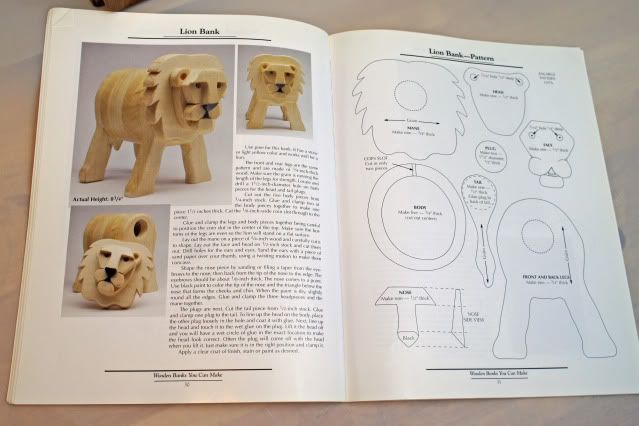 -- gene@toronto.ontario.canada : dovetail free since '53, critiques always welcome.
---
---
---
---