---
Okay this project is pretty much where things all began….
Hand carved western table made out of sugar pine. The top is 84" in Dia. There is about 44' of hand carved 3/4" rope around the top. Four different scenes around the band of the table seperated by a block with a different carving on each of those. The carved area is 2 or 2 1/2" tall, don't remember for sure. I have to check on that.
When I first came to work in here 1991 no one ever carved on any of the furniture, "Why not" I asked. The responce I got was "No one knows how." "I'd like to try if there is ever a chance to." Was my reply. A few weeks went by and this table came about. "Think you can do this?" "Don't know,,,but lets find out." We got the job and so I got started.
It took a total of 314 hours to complete, we bid 315.
Now most people never believe this but I assure its the truth! This was the first carving I ever did of any kind relief or otherwise. I can not explain it, it just happens. All I can tell you is that I can see it in my head before I start. I've never been taught, I just jumb in and get my feet wet and go.
This table went to Aspen Co. recently the house was sold that this table was built for. The buyers would not buy the house without the table. Its things like that and the reaction from the person or person's that a project is for that makes it all worth while for me.
OK! Trying to figure out how to do this. Let's see if it works. Here's some more pictures of the carvings around the table.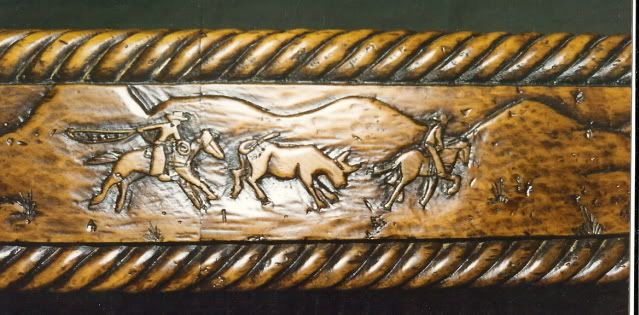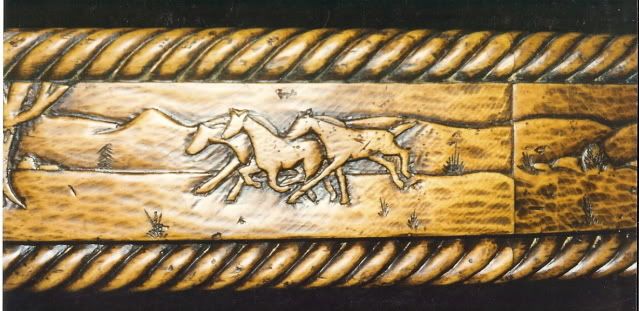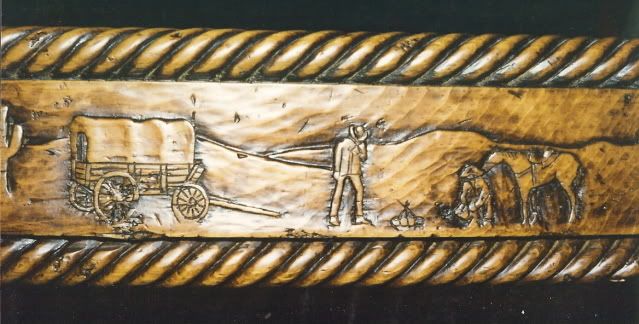 Ok Dude's I think I figure it out! (I'm a woodworker not a computer geek)
-- Les, Wichita, Ks. (I'd rather be covered in saw dust!)
---
---
---
---