---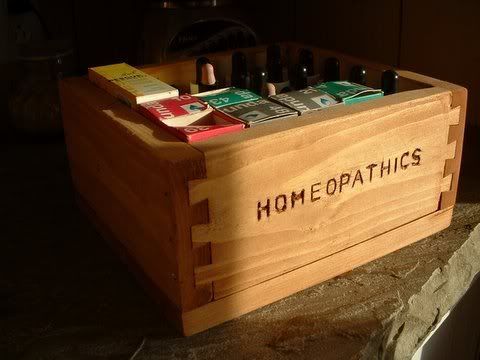 I believe that this was one of the first wwing projects that I completed.
It was about three years ago and DW wanted something to store all her homeopathic beads and tinctures. She said she wanted a box . . . just a simple box . . . made from some scrap wood out in the shop.
As my wwing skills were rather limited and LJs was just a thought in some guy's head, my mind was turning rather slowly on how to make the box. I had a flashback to the age of 5 when little Zuki was out in his father's garage cutting up plywood with a rusty hand saw and nailing it together to make something to hold the nails of various sizes that were strewn all over the garage floor. Did I mention that I had strewn those nails? But I digress.
I found some "scrap" pine in the shop and started to dimension the wood to build the simple box. Just prior to this project I had picked up a King dovetail jig for my router and I was itching to try it out. The result was some ok looking half-blind dovetails.
You may be wondering about the finish . . . it's a coco rub (yep the stuff you cook with) and olive oil. DW wanted to keep it as natural as possible because of the nature of the box's content.
It has been beating around the house for three years and still serves its purpose.
My simple box.
-- BLOG - http://www.colorfulcanary.com/search/label/Zuki
---
---
---
---