---
Two projects which I've been working on, now complete. Both of these have been featured, more or less, in my recent forum postings about Chucking methods, and segmented assembly tips. Well, here they are, the item on the left is, well..? A jewelry box, covered candy dish, or bedside container for your false teeth. The item on the right is a Greek urn,(awright, Roger Clark), mortar sans pestle, or spittoon! These items were created with no clearly designed style or purpose in mind, mostly built so I could get the hang of segmented joinery and hollow-form techniques on the lathe.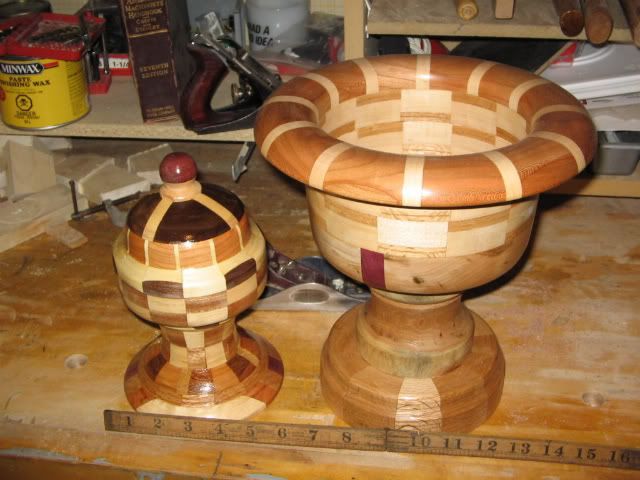 Heyyy.. that's my new #2 plane lurking in the background! How did it get there, I wonder? There's 149 pieces in the covered one, 88 pieces in the one on the right. I really did use up a lot of waste stock and marginally useful materials this way. Poplar, purpleheart, walnut, mahogany red oak and maple, a Mulligan's stew of wood species. Hope you like these projects!! Now…these two were fun, but it's time to clean up the shop and get busy with some serious projects.
-- Einstein: "The intuitive mind is a sacred gift, and the rational mind is a faithful servant. We have created a society that honors the servant and has forgotten the gift." I'm Poopiekat!!
---
---
---
---