---
This box was made as a Christmas present for a friend, Richard Carlson. After seeing a face emerge on my first box of this type, Rich was the one who told me about the character Roly Poly Olie. His kids are younger than my step-son, so they were watching Olie on the Disney Channel at the time that box was made.
I decided to incorporate double dovetails and a stand (or feet for Olie, if you will) utilizing miter joints. I generally eschew miters, as I just don't do well with them. This time out I built a miter sled, based on one of Niki's creations. The results were all together better than my usual outcomes with miters.
As with the previous Olie box, the lid is of a pinned breadboard design (walnut pegs for the eyes). The lift (nose) is an acorn turned from walnut with a dowel turned on the base which fits a stopped 1/4˝ hole. The acorn's cap was woodburned to create the scales, using my wife's pyrography pen (her Xmas present from me – I will post some of her work shortly. She's a natural, and everyday she has created something new that blows my socks off. I have gotten more joy from this gift to her than anything short of her engagement ring).
The box had a turned bloodwood escutcheon (the mouth). This has subsequently been replaced by a bookmatched bit of Morado. See last two project pictures for the update. Originally the escutcheon was glued on with cyanoacrylate, now it's mounted with 5 minute epoxy. I free-handed the shape on the scroll saw to follow grain lines rather than to be strictly symmetrical.
The front panels of the box are made from Jatoba, side panels and base are Cherry with the secondary set of doves in Walnut.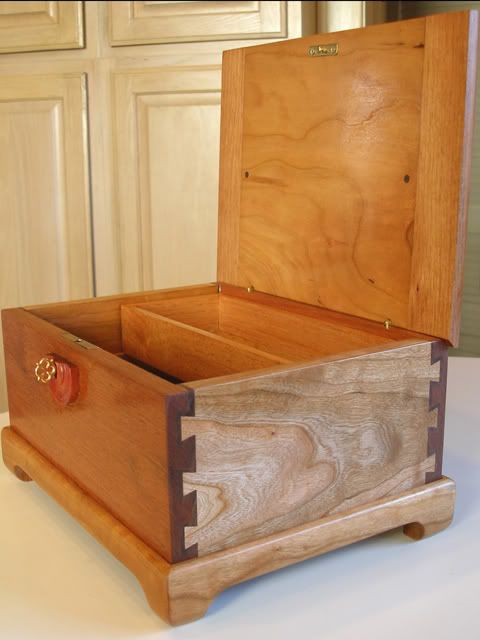 The box has a half-till made from Spanish Cedar with a white oak bottom. I left the Spanish Cedar ledger strips that hold the till up unfinished, so the box is scented with that aroma I love so much. Box bottom is stained baltic birch ply.
I used a piece of Spanish Cedar on the front of the till that had a swirl in it that mirrors the swirling grain of the front Jatoba panel.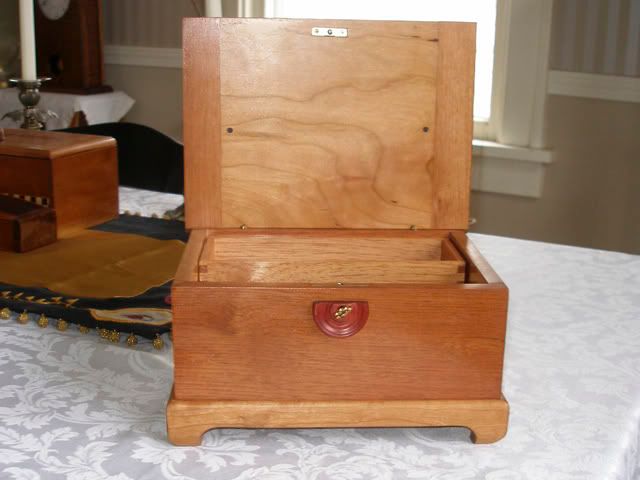 Finish is Zinsser Sealcoat dewaxed shellac and Trewax mahogany tinted wax. Box dimensions are 10˝x 7.5˝ x 5.5˝.
The internal depth of the box is 3.75˝.
-- "Bordnerizing" perfectly good lumber for over a decade.
---
---
---
---