---
My nephew is a fan of Irish music. Recently for Christmas his parents generously gave him a custom brass Irish Whistle. This instrument is somehwhat foriegn to me, but I really enjoyed listening to the sample music available on the web.
The young man came to me desiring a custom case that was suitable for display of the beautiful instument as well as safely transporting it.
I do not really specialize in box making, as I normally work in much larger scale, so this was a learning experience for me in a lot of ways.
The walnut body is constructed from a single board so that the grain smoothly runs around the sides of the case. I used a piece of spalted maple for the dovetail miter splines.
I have seen several Lumberjocks mention using Inlace products in their projects, so I have begun experimenting with incorporating it in some of my projects. Other than the smell (whew!) it really adds a new dimension to the work. I like the results!
I am also happy with the hardware that I decided upon, including the hinges that have a positive stop allowing the lid to be held open just past vertical.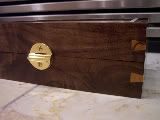 Several coats of a home brew Maloof finish and a couple buffings of wax, and I am off to deliver the prize tonight. I hope he enjoys it!
Thanks for letting me share.
-- Trevor Premer Head Termite and Servant to the Queen - Heirloom Woodworking
---
---
---
---