---
I posted this little box before but Karson asked that I post with a few additional pictures. I could not add to the previous post so here it is in a new format. This is the Minnow in miniature. This is the same design that I made for my boss at work (his is considerably larger) – both were made of of Mahogany – just by coincidence.
The box was made mostly on the scroll saw – I had to use the eraser end of a pencil to guide it through the blade. The inside is flocked. The little handle is made out of a walnut scrap. The handle was also rough cut on the scroll saw and then to final sand I had to hold it in a pair of tweezers that were themselves held in my metal vise. As I recall (this is an old project) I had to use a rubber band to hold the tweezers tight around the handle.) Gluing it on was also done by placing it in position with the tweezers.
All in all it was a fun "little" project. I've been getting the bug to do some more miniature stuff. We'll see what I come up with.
Thanks for looking.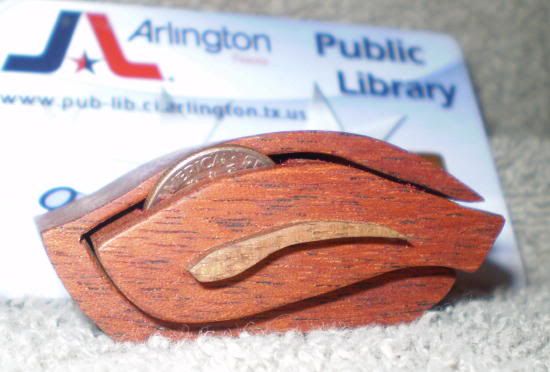 -- "Our past judges our present." JFK - 1962; American Heritage Magazine
---
---
---
---