---
I've been searching for a dado plane that had 1/8" rounded profiles on the sides. I needed the round over to match the existing round over on the the restoration project. I emailed Lie-Nielson, Lee Valley, and a few others thinking it's a no-brainer. There is no such animal. However, I also emailed the Japan Woodworker. They didn't have a plane, but they do have small plane irons for just such a purpose that I could then configure. OK, well I never did that so I was going to use the glue and sawdust method and hope for the best. That is until I saw a post by GarageWoodworks – http://lumberjocks.com/GarageWoodworks/blog/19642 – detailing how easy it is to make a chisel plane.
My first one started out exactly like the plans including the use of a chisel. However, the 5/8" chisel that I had was tapered and really didn't sit in the plane securely enough. Then I remembered Japan Woodworker. I ordered 2 of their 5/8" plane irons – http://japanwoodworker.com/dept.asp?s=JapanWoodworker&dept_id=12936 – thinking I'd have one to screw up. And they weren't any more expensive than the chisel I had.
The plane irons came and were smaller than what would fit in the chisel plane that I had just made. So, I made another (folks – it is that easy!!!). This one is small, but just as easy to control. Besides, I wasn't going to do a whole lot of planing with it, just the last 1/8" or so to get the profile. I made the 2nd plane with about a 50 degree angle, added my profile to the base of the plane, added my 1/8" round on the iron (to match the profile on the plane), and then sharpened the iron. Here you can see the 1/8" round over profile in the base:
The hole required for the shaving is tiny. However, I only need one or 2 strokes to get my profile and it's easy enough to blow the shaving out. I got fancy with this plane using scraps of black walnut and lyptus. I then finished with a few coats of a 1lb cut of shellac. It's actually very pretty.
Here is an example of why I was trying to do what I did: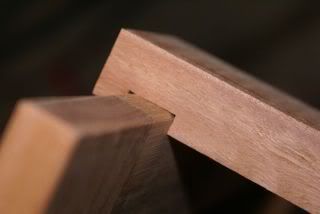 -- Don
---
---
---
---