---
This customer had it all, huge basement, great ideas and money! He told me he has 4,500 square feet of basement and wanted to cover it all with mahogany. I said okay!
We used approximately 25 sheets of ¼" mahogany plywood, 15 sheets ¾" shop birch plywood and 3,500 hundred board feet of mahogany and African sapele to complete this monster. The switch to African sapele was necessary due to unavailability of mahogany at that time. However, if I would have known about the sapele earlier we would have used it throughout! There was very little difference in the grain pattern compared to the mahogany we started the job with, and since it had a dark stain, it was almost impossible to tell the two apart! Only in price!
On a project of this size and difficulty, we found out that it's easier to work it in phases to avoid headaches and mistakes! They were still there, just not as severe as they could have been.
The bar was the first place we started, because everything tied into the bar somehow. Coffered ceiling, archways and wall paneling were all added after the bar was put into place. This way we could take exact dimensions of what we were working on at the time and disappear to the shop for a couple of days to build it.
The wall paneling and archways went pretty smooth! We milled all the stile, rails, moldings and arches and fitted them on site. It was that pain in the arse coffered ceiling that took its toll on us. My Pop came up with a pretty good system to install coffered ceilings, but this one was just way much! I spent weeks going up and down the ladder, I was worn out!
The theater room is where we made the switch to sapele, can you tell? (He couldn't). He was to busy thinking about that 10' wide high definition screen. This thing is awesome!
Overall this job went pretty well. I can probably write a whole series on this project there was so much woodworking. Here are a few more photos from this one. For more of our projects you can visit our blog at http://woodworkingtipsfrompop.com/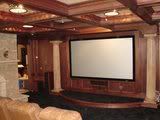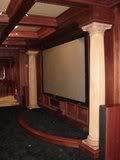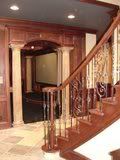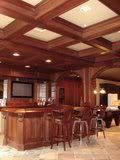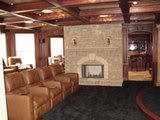 -- Illegitimis nil carborundum - Don't let the bastards grind you down http://georgiacustom.com
---
---
---
---