---
I was reading here about how different guys store their wet stones. I decided to show how I store mine, dry by the way. I am sort of a wet and oil stone nut. I am a professional sharpener, but even as a kid my Dad taught me how to use a oil stone to put a razor edge on a pocket knife (8-9 years old ?).
I use my stones for the obvious knives, chisels, plane irons…I read alot about Scary Sharp and honing jigs and other gadgets on these forums. For the novice they are great. I am a freehand sharpener. I use a combination of man made wet stones like Carborundum (silicone carbide) and naturals for sharpening, or in other words grinding an edge on. And natural oil stones for honing/polishing to a razor. I don't want anyone to think free hand sharpening cannot produce as good of results as the jigs and scary sharp, that would just offend me (kinda like calling me a liar)
I put a video on YouTube of me sharpening a dull butchers knife to a shaving instrument in less than 60 seconds with my wheeled sharpening/polishing grinder. I had some guys comment I was a "hack" on the video. I just crank those deli knives out like that because I will see them again next week, they are hard on them. For true honing I use the stones.
Ok now the quick and dirty project, nothing fancy just functional. I am proud of my stones (don't have alot of money in them, but have been lucky to find some good ones) and wanted to keep them from being damaged. I have had them in a tool box separated by foam padding, but that is just not very cool trying to get everything situated back in there right. I had many times thought about making a wooden chest for them. But I knew as soon as I did I would find a couple more stones and the box would be the wrong size.
I just picked out my favorite/most used stones and threw this little thing together out of some scrap white oak. You can see how it works, closed up they more or less protect each other. I can swing out the one I want and remove it from its holder. I left the dowel a little long, I figure I will run across a another stone or 2 that I will want to add. I can just make another holder for that stone and since the holders can slide up and off the dowel I can add my new stone in the appropriate order.
I have 2 Carborundum stones on the bottom, they are 2 sided for a total of 4 grits from course down to under 400. Then 2 naturals one finer than the other, followed by 2 oil polishing stones on top. I have "sacrificial" cheap stones that I lap all these with. It is important to lap your stones as they wear to keep them flat. I have silicon carbide powder I mix with oil/water and just rub the stones together.
Gosh, this is more like a blog that a project, but I am not much of a blogger I guess, just long winded. Thanks for taking the time to read it all. Here is one more picture of the thing closed up. I think hand sharpening with stones is a very Zen thing, you get into the groove and you just know it is going to be sharp. For beginners it can be frustrating, but once you get the hang of it, it is very fun and easy (or am I just weird?)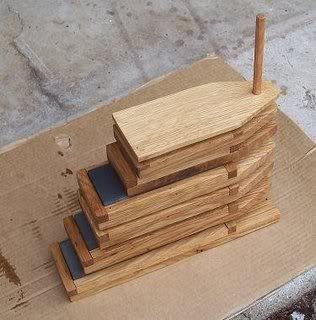 One more thing. Here is that video of me sharpening with a machine, if you are interested. I removed all the rude comment guys who did not know what they were talking about posted. They were ignorant, they did not know any better. http://www.youtube.com/watch?v=S_KceD0e_WY
---
---
---
---