---
I needed a workbench. I got tired of chasing my Workmate around the neighborhood when trying to do some simple hand planing. Or placing an old door on my tablesaw and if I had to cut something in the middle … $#@$%.
I looked at a number of workbench plans and even those fancy Roubo's. OK, that was a bit much for my garage shop. I found this workbench in the June/July 2005 issue of Wood magazine. The title caught my eye: Low-Dough, Rock-Solid Workbench. COOL!!! Plus, in the same issue an article about beefing up a workbench. I was off and running.
I did substitute the construction 2x material for Poplar (there was a sale I couldn't pass up), but that's about it for the structural changes. I added a number of drawers and included my wife's suggestion that the drawers open from both sides of the table. For a vise I included a B&D Workmate that I have. My bench dogs are synthetic wine corks. They work awesome. PLUS, I finally have a place to use the GripMaster I purchased over 30 years ago but never took out of the box. I converted the VHS instructions to DVD and was quite impressed with it's versatility.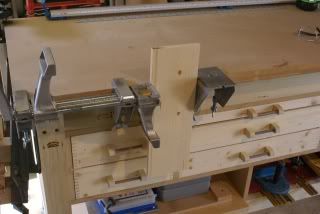 I can now use my hand planes and stay in one place – the thing dead flat and ROCK SOLID!!!
-- Don
---
---
---
---