---
The need to control sanding dust has been evident in my shop for some time. Like most small shops, work space is at a premium and a downdraft sanding table has a substantial foot print. I looked at several of the tables available and decided the table top models were too small for the type of woodworking that I do. The next obstacle would be where to store it when not in use. With these requirements in mind I went looking for a sanding table to fit my needs.
About a year ago I joined a woodworking forum called WoodNet. www.forums.woodnet.net My first post was on "Why clean your shop" and one of the members (Michael Curtis of South Carolina ) posted several pictures of his downdraft sanding table. Those pictures were the inspiration for my shop built table. Thanks Michael. http://bit.ly/9hP0KW The pictures of his table are on page four.
My new table is a self contained sanding table and workbench. It solves the issue of where to keep the sanding table when not in use. A solid workbench that measures 28″ x 88″ x 34 1/4″ high. The frame is made of 2″ x 8″ pine and is supported by 3 1/2″ X 4″ laminated maple legs. The top is two pieces of 3/4″ fir plywood laminated and banded with hard maple. At a later date, I will be adding that one thing that every workbench needs… a vise.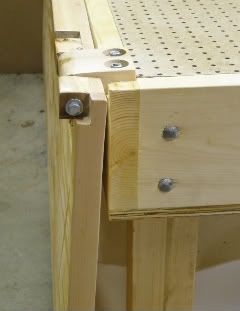 I used this Jet dust collector model dc-650. After removing the two bags and hose, I unbolted the base and cut 6″ off the tube that is attached to the motor. Using the flange that held the top bag, I screwed the dust collector to the bottom of the sanding table. A thick bead of caulk was applied around the flange and to the intake tube, where it penetrated the bottom of the table.
After installing the lower bag and connecting power, it was obvious the bag was too small and restricting the air flow.
I ordered a custom bag from American Fabric Filter co.
www.americanfrabricfilter.com
The $140.00 bag fits like a glove and with nearly three times the volume as the original bag, it really does the job. A huge zipper across the bottom will make this bag a breeze to empty.
Keith
-- Keith, Charlotte, MI www.julyswoodworks.com
---
---
---
---