---
A 6 pointed star cutting board made with maple, cherry, and walnut. I used the same techniques that I used on my Mobius board. I only cut the interior part to size, left all the other parts too long, and then trimmed them after glue up(s). I found this to be easier on me (no measuring!) and a nice way to get tight joints without a stressful glue-up.
The design has a 3 to 1 size ratio. The maple is three times the width of the cherry/walnut. I used a cherry/walnut combo of 3/4 inch, which yields a board size of 10 1/2 inches (14 times 3/4). Point to point it is about 12 inches. And as I had done before, I split it into assemblies. I have included a sketchup drawing to try to illustrate this.


.
First I glued up some cherry with walnut edging. There are four sticks here with wax paper in between.


.
After cleaning up the glue-up, I used the width of three of them to rip the maple to size.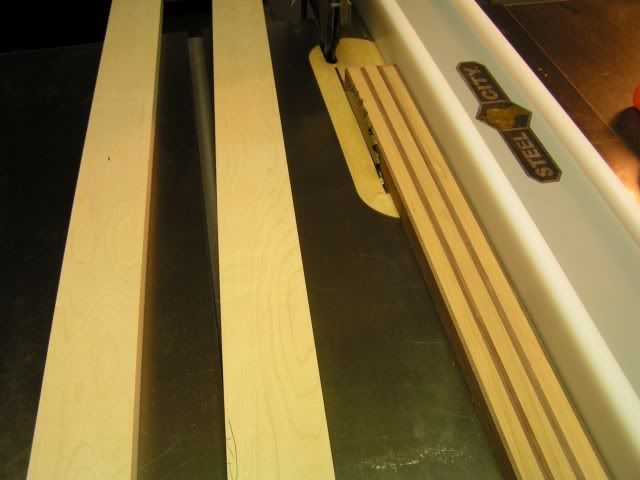 .
I cut the parallelograms with the miter gauge at 30 degrees, and using a stop block so that the width equals the height (which equals 3 banded sticks). I only needed three, and they are used for the center hexagon.


.
I then cut the banded sticks and the maple slightly oversized. I glued up six of these subassemblies.


.
I then went back to the miter gauge and trimmed the left side of these assemblies by creeping up on the cut, until I just formed the triangle.


.
This is what the dry fit looks like. I then added glue.


.
When dry, I trimmed the board close to the pencil line on the bandsaw. Then I made a fence slider to hold the completed board in order the trim the outside edges. I just used some scraps and glued them together. An angle piece at the top, glued to an MDF strip, with another spacer at the bottom. This allowed me to contact only the surfaces that were true.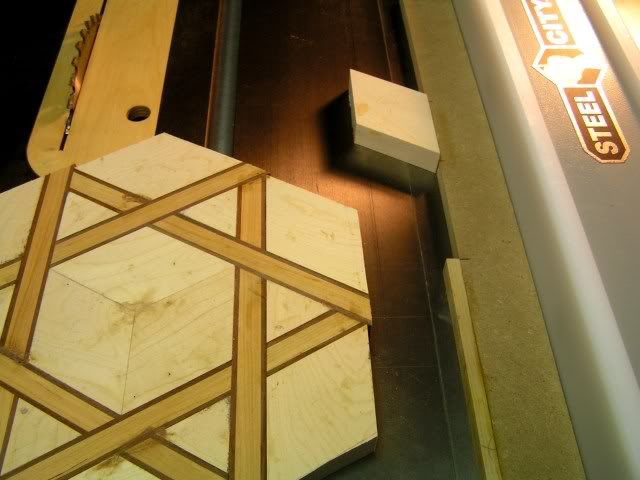 .
Then snuck up on the rip, and just shaved the outside.


.
Sanded smooth and oiled. Ta Da.
Edit: If anyone tries to build something like this, with the maple center like that, I would recommend using white glue for just the center part. TightBond III is really dark when it dries, and it might leave a line.
Steve
-- -- I'm no rocket surgeon
---
---
---
---