---
My uncle and his wife have retired and spend a great deal of their time on the road in their new motorhome. It is beautiful, and they have a grand time living in it.
Recently they came to me explaining that they needed more counterspace to work in their kitchen. They love to cook, but had a very limited space to do it in, given the constraints of mobile living. I was glad to accept their requests for an L-shaped extension table to match the decore of their wonderful diesel home on wheels. The piece also needed to be lightweight for ease of mobility/storage, as well as durable to stand up to everyday use.
The existing countertop surface was a formica laminate top, banded with a decorative piece of synthetic "stone" and the cabinetry was composed of beautiful cherry woodwork.
Fortunately they did have a table top that matched this arrangement, from a fold-out dining tabletop (they had upgraded to a top with extension glides & leaves). The problem with the top that was presented to me was that it was only edge banded on three sides, and the rectangular shape was going to have to be cut into an L-shaped top.
Long story short, I managed to cut the top into the requested shape, without creating too much damage to the formica edge. I also was able to re-claim some of the "stone" edge banding from the cut-off piece.
I used a clear epoxy to place a portion to the re-claimed edge onto one of the unfinished ends of the reshaped top then filed and sanded the profile to match the corner. I then edged the rest of the top in 3/4" cherry.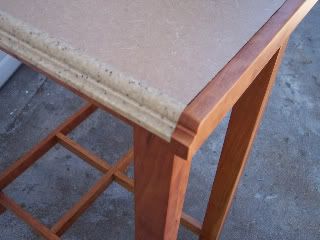 My local suppliers have virtually no cherry lumber in stock, (we have vast cornfields and prairie pastures here, not many cherry trees) so for construction I was forced to use what I could find, which was a small well picked-over pile of 4/4". While I would have prefered to use thicker stock for the legs I ended up having to glue them up.
The stretchers and aprons are fully mortised an inch into the legs to provide a life time of strength.
Finish is a simple soaking with natural danish oil and 6 coats of satin gel varnish.
As you can see, she liked it!
Thanks for looking
Trev
-- Trevor Premer Head Termite and Servant to the Queen - Heirloom Woodworking
---
---
---
---