---
Jim's Casket is finally done… and what a story!
After I completed my friend Christ'ys casket, http://lumberjocks.com/projects/1141, http://christykatecoleman.blogspot.com/
my wife's close friend Carol called to say that her husband Jim had brain cancer and little time left – could I build him an art casket depicting his life. Her original thought was to cut the painted lid in three and give each family member a part of the picture. Marc Decou suggested removeable art and I took his idea and came up with what you see. Thanks again Marc.
Carol gave me free reign to design, build and upholster this project and as it progressed came up with requests for the paintings.
Jim was the head miller at a flour mill on the Missippi River in Almonte Ontario for 35 years and after setting up another mill on the prairies when his closed, came back to Ontario and semi retired, working nights as a security guard.
Jim's hobby is racing pigeons which he keeps in a loft in his back yard. I painted a western scene in the background as he is from Alberta and loves fishing, hence the river. His favorite bird is the one superimposed in the clouds. I understand that when he packed up his young family to move from Alberta to Ontario many years ago, following his employer, he sold his racing pigeons, one of which was worth more than I make in a month.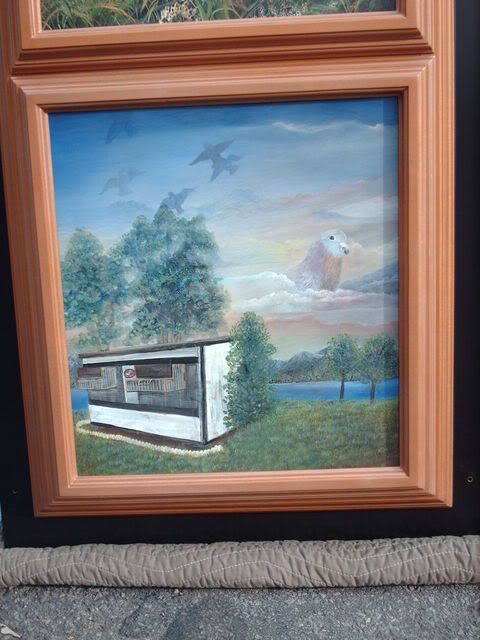 Jim is from Ponoka Alberta and will be buried there beside his mother. I painted this foothills scene mostly from memory as I have been across much of Alberta in my trucking travels. My wife took the painting over to show Jim when he was still at home and she said that he stared at it for a long time.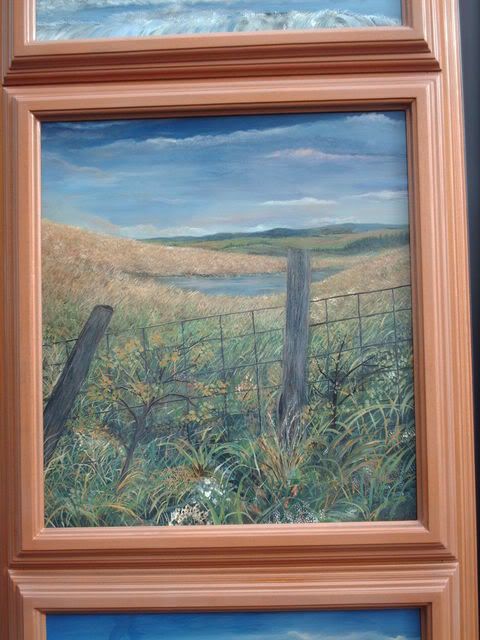 The finish is acrylic covered with water base clear with an amber dye added to imitate polyurethane. The black is a subtle hammertone as Jim always struck me as a little rough around the edges kind of person, and a polished smooth finish wouldn't do him justice.
The bronze moldings are hand stippled and covered with clear, then sanded to take the tops off the paint ridges giving a bronze leaf effect, before clear coating again with the dyed finish.
The side and end panels were designed to look like old leather as Jim reminded me of a well worn leather jacket. There are three shades of brown sponged onto untempered sawdust panels to give a grainy texture. Thin black is wiped on and off to fill the grain, then a reddish color, burnt sienna, is glazed over the panels which are again clear coated with the amber dyed satin clear. The handles are also stippled bronze and clear coated, then sanded and cleared again.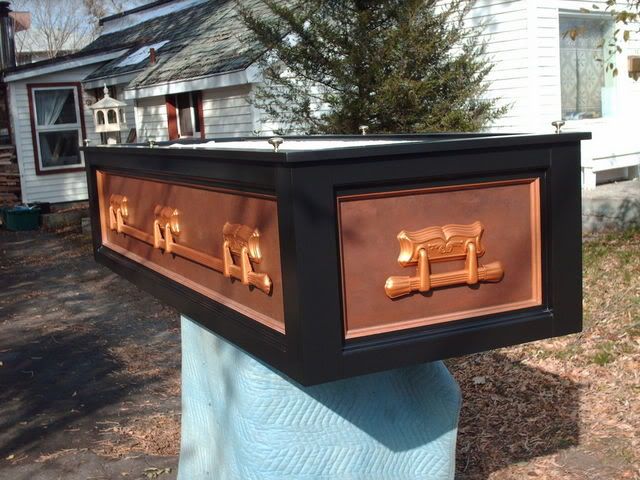 The upholstery is wedding satin, a reminder of a long relationship between Jim and Carol and their romance, as they originally met in Riverside Park in Medicine Hat Alberta and still have fond memories of walking in that park together. I did all the upholstery and sewed the pillow as well. The display at the funeral will be as shown, with the lid set on an easel, displaying Jim's life story. I added brass knobs to the casket to cover the threaded inserts during the viewing. On Christy's casket I had little fabric roses covering the inserts for a feminine touch.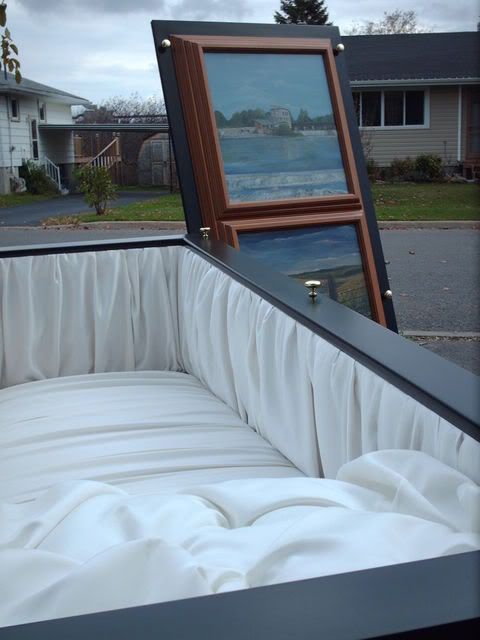 I put my Freightliner out on the street to photograph the casket and got a kick out of all the heads turning as folks went by. Wonder what they were thinking? It was bright and sunny when I rolled the project out of the shop but it clouded over quickly and the raindrops were just starting as I wrapped up the shoot. We'll call Carol today to say the casket is done, but if it's possible I might get studio photos done.
If you check my original blog when I started this project you might ask why it took so long. It didn't start out the way it eventually progressed into and that's the "story" I meant at the beginning.
150 days ago this casket was a handful of days from completion http://lumberjocks.com/jocks/PhilBrown/blog/1210,
http://lumberjocks.com/jocks/PhilBrown/blog/1222
A couple of days later I was to the point of fastening the handles on and doing the interior. I had set a three week timeline on the project as Christy's casket was completed, crated and shipped to Vancouver in three weeks, and even though there were a lot more moldings to rout and paint I was confident I could deliver and it was looking that way. Carol came over because Jim had been moved to a big city hospital, and was very low, and was delighted that the casket would be finished in a couple of days. She raised her hands heavenward and prayed over the casket, in faith that it would be done on time.
That's when everything went crazy. No kidding.
My wife's daughter's husband dropped dead at 36. He went to the doctor on a Friday complaining of chest pains and was arrogantly dismmised because he was a smoker. He dropped dead on Sunday. Our car needed to go to the junkyard so I bought my neighbor's van and we ferried everyone to karl's funeral and hometown on a trip permit. Then I had to work on the van to get it safety checked and emmissions tested. All the while trucking at night.
Then the client whose dining table I was refinishing at a discount as fillin work phoned on the 22nd of the month, said it was the middle of the month and I had to have his dining table finished by the end of the month – despite Jim's condition. I couldn't believe what I was hearing. The table got finished, and I ended up in the hospital for the better part of a week with diverticulitus – some painful. My trucking boss had a hard time covering the run and my blood pressure went through the roof worrying about it. They weren't going to let me out so I concentrated hard at calming down and drastically dropped the numbers overnight. They let me go home the next day and my boss said not to do the run that night.
The day I got home from the hospital the town parking control officer was lurking out front of my home. He came onto the property waiving the municipal parking bylaw, threatening to give me a ticket for the Freightliner parked on the street. I explained my situation but he just kept on threatening. I held out my arms, full of intravenous marks(I handn't eaten or drank in 4 days) and said I hadn't made any money that week. He left still grumbling, threatening. Now the guy down the street parks his rig on the street all the time, sometimes with a refrigeration unit running, and never gets bothered. Go figure. I had the wires raised out front and park in the driveway to avoid hassles.
There are some things I can't repeat but I will tell you that it became like a horror movie. Everywhere I went I got attacked – in every area of my life. Social relationships, business, reputation, marriage, finances – you name it. The casket was finished, and refinished dozens of times over and over again until I thought I would lose my sanity because there was no reason for finishes not to dry properly or to act the way they were acting. Things would fall over and launch into the casket putting dents into the fresh finish. It was unreal.
The most memorable attack happened one weekend late at night as I was spraying clearcoat. My homemade spraybooth started to rip and tear at the doorway and a face appeared through the torn plastic. A local pugilist/barfighter had heard about me taking on a strike line of several hundred people and that put a serious dent in his reputation, knocking out 3 and 4 guys in a row. I believe it, because he has hands you wouldn't want to be on the receiving end of. He ripped his way through the plastic followed by a huge black dog. He was several sheets to the wind but was determined to hear my version of the story he'd heard.
It was 40 below zero and the strike line across the street from factory I'd previously worked at was ugly. Our manager went across the street to get their vehicles moved away from our entrances so tractor trailers could get in and out. They ran him off. He came in the front door of the office shaking. I said "give me a minute – I'll straighten this out" and went across the street in my t-shirt. No way were they going to touch any truck driver doing business on my watch. The pugilist said I was rolling up my t-shirt sleeves. I don't remember that. I remember my teeth chattering from more than just the cold.
I looked for the biggest guy in the line and as I got close the crowd parted and he came out to meet me. I stood on his toes and gave him a parrable. Two choices. I gave him choice to be responsible to see none of my drivers got hurt – choice to be king of the hill. Or to take it from me and hurt my drivers in which case I would have to come back with plan B. The catcalls got loud and the feeding frenzy escalated. I knew I didn't have much time so I asked him to move the custom pickup truck right in our entrance because it would eventually get tagged by somebody's truck and even though the insurance company would straighten it out, it would never be the same. "Thanks" he said, "that's my truck." We walked together back across the street. My knees were shaking when I got to the office.
After I finished my version, somehow the fistfighter's record of consecutive knockouts went up to 21 guys in a row. Wow. He kept trying to be my new best friend, following me around the casket, all the while attached to the dog, which I later realised was on a chain. The dining table client never showed after I got out of the hospital so I had wrapped it up and put the casket lid on it to work. The dog got under the table, wrapped around a leg 3 times and tried to take off sensing my growing frustration with his owner, resting a sweaty arm on the fresh finish, I finally bounced him off my chest and told him to move. The dog ran and the dining table did a 180 almost sending the casket lid flying. I caught it before it fell off. It's built like a picture frame and probably would have shattered.
I had to refinish the leg the dog had wrapped around with the chain. What a mess. Later I tracked the dining table client down, who handed me $50 less than I had quoted. When I persisted, a 50 dollar bill appeared magically in his other hand. Lesson learned – always write agreed prices down. Saves on bad feelings. He asked me to upholster the dining chairs after we got the table thing squared away.
I was at the point of beating the casket back to sawdust when my wife came out to the shop and read the verse from the David and Goliath story – "The battle is the Lord's". That really helped me. The battle against the powers of darkness didn't lessen a bit, but I was able to go back into the shop in faith, day after day and repeat processess over and over again that got beaten backwards over and over again, and just keep working away at it, doing my best, leaving the results up to God. 160 days to do a 21 day project. Carol has never called once to check on the progress. Imagine faith like that – just leaving it in God's hands. Incredible.
I got a phone call this morning before I went out to the shop. My oldest daughter had misscarried. That's two grandchildren that I haven't met, but I will meet them in heaven.
I'm not sure why I've had to go through all of this but I read about what guys like Job and Nehemiah, Joseph and others went through in the Bible, and they came out the other side of horrendous circumstances with a story to tell. I guess the rest of mine isn't here yet.
My friend Christy died a week ago Saturday night and was buried this past Saturday. Her casket lid was not buried but is being kept as a reminder of her life and faith.
I'm hoping to start on a biker casket for sale, and am in the early stages of designing the paint scheme. Can't wait.
Speaking of motorbikes, I haven't been near mine this year. I went yesterday and pulled the tarp over the street fighter I'd been working on previously but it had so far to go yet I thought of selling it, and all of them. Then I went to a friend's house for a second to pick up an antique door he gave me from a renovation and he gave me his Honda 750. "Doesn't need any work" he said. "Better see you on it next season." How about that. I guess I'd better not work so hard next year.
Gotta jump in the Freightliner. Bye for now.
Phil Brown
-- Phil Brown, Ontario
---
---
---
---