---
A little earlier today I posted in someones blog about bar tops and it got me thinking about a project I did a few years ago. I had just been laid off after 11 years as a PBX/telecom tech and was living off of some severance pay. I was working at my friends custom kitchen shop for free lunch, free dibs on the scrap pile and free use of the shop. Another friend had just purchased a new house that had a rec room in the basement complete with a bar! Only thing was, the bar was roughly framed with 2×4's covered in T111, and the bar top was a single sheet of Home Depot grade structural (not even hardwood) plywood! And if that wasn't enough the guy had the audacity to route a profile in edge of the plywood….after getting over my nausea. I quickly came up with a plan to upgrade the bar and make it look better…casue it looked like a tipped over garden shed at the moment! Here is what I came up with…
Here are my Auto CAD drawings.


I used 3/4" Oak ply for the panels so it would be lighter and less expensive. We used a biscuit jointer to assemble the frame, and backed it with 1/4" Oak ply. The openings were framed with solid Oak molding with a custom profile me and my cabinetmaker friend came up with through trial and error.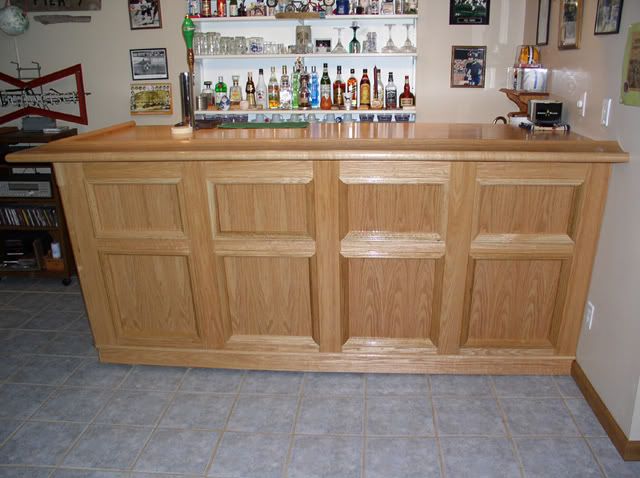 We left the T111 and the old bar top on as a substrate. The panels were assembled and finished in the shop. We then secured the front panel to the side and once again through trial and error developed the corner bead. We actually took 2 pieces of left over molding, ripped them up the middle, then reversed them and glued them together. A couple plinth blocks top and bottom and thats a corner!


Once it was assembled completely we then attached to the bar by drilling clearance holes in the T111, so the panels would "suck in" tightly to the substrate. Screwed in from the back, and leveled it fit perfectly!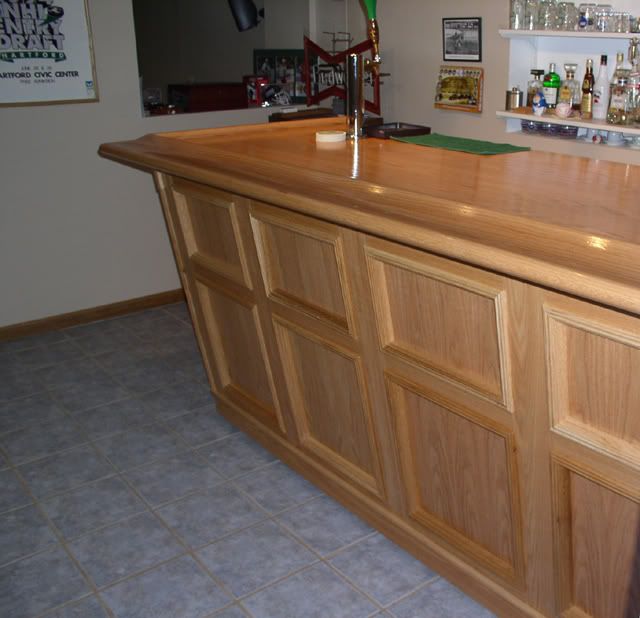 The top was a sheet of MDF custom laid up with a beautiful piece of Oak veneer. We choose MDF cause its heavy, flat and much denser than plywood, so it wont dent if you drop a glass on it. We attached some solid oak "Chicago" bar rail to the front edges and then screwed it in place from underneath through clearance holes in the substrate.


As you can see the concrete floor drops rapidly away from the wall into the center of the room. I installed a piece of scribed shoe molding and also finished the end that met the wall with 1/4" round. Unfortunately I don't have pics of the bar fully trimmed out, and I have yet to do the inside part of the bar. But my friend was pretty happy with the results, and we did the whole thing for about $1000 worth of materials, almost half of that was the cost of the bar rail and the custom MDF sheet. The bar was finished with brushed on Deft semi gloss lacquer ( that was the homeowners contribution to the project) and he put on a whole gallon..probubly 10 coats..sanding each coat slightly in between. All in all I think it came out nice!
-- http://www.facebook.com/pages/DSO-Designs/297237806954248
---
---
---
---