---
These Hope Chests were this years Christmas presents to the most important and wonderful people in my life, my teenage daughters. Ages 16 and 13 these ladies are the gleam in their proud father's eye and are full of life, promise, love and hope for the future.
The idea for this project(s) came from a post several months ago by fellow Lumberjock Rouge. His beautiful pair of hope chests planted a seed in my to-do-list.


Upon viewing his project, I decided right then, that I had to make my daughters each a special and unique hope chest. One that they could treasure for the rest of their lives, and hopefully pass on to their own children.
I have been watching and researching other Lumberjock's hope chests for the past year. Borrowing elements from many of them, I created my own mental plans for what I hoped to create. As I have said on several of my other projects, I really only had a mental image of the project, never put anything down on paper. When it came time to start the construction of my dream, I just gathered some wood and started engineering and problem solving on the fly. Lumberjocks has without a doubt become my biggest resource for inspiration, and creation ideas!!! Thank You to all of you!
In my corner of the vast treeless prairie, a source for a variety of hardwoods is hard to come by. The local yards have mostly Red Oak, and only a sparse sprinkling of other well picked-over odds and ends of species. I purchased the oak from the local yards and then drove 3 ½ hours to the eastern part of Nebraska to purchase the aromatic cedar from a mill I located there.

Then through a Lumberjock posting I found a much closer mill near the central Nebraska town of Litchfield, Native Lumber & Sawmill. A recent trip to visit owner Rastus Snow, has provided me with some great wood treasures. If you are in need of some nice lumber, I suggest you visit his website and contact Rastus. I absolutely love the walnut that I purchased from him for these projects.
Using multiple construction styles (rail and style, mortise and tenon, etc), these chest are built to withstand years of use and love. For strength the front, back and sides are mortised a full inch into the corner posts. The floating cedar floor of the main chest is tongue and grooved together and fully dadoed into all four sides of the chest.
The glue up for the lids involved the use of a locking router bit cut, and breadboarding the ends.
I opted to use full extension roller bearing glides for the dovetailed drawers, along with recessed wood pulls and aromatic cedar bottoms.


Locks and brass escutcheon plates have been installed on the lid and drawers.

After a seemingly endless amount of detail sanding, the chests have been finished with 2 drenchings of natural Danish oil, 3 coats of General Finishes Arm-R-Seal Gloss, and 5 coats of Arm-R-Seal Semi-gloss. The finish is extremely durable, and really shows off the beautiful grain of the wood.
According to the online resource Wikipedia, the ancient Chinese philosophy of Yin and Yang is often "used to describe how seemingly disjunct or opposing forces are interconnected and interdependent in the natural world, giving rise to each other in turn……"Yin yang are complementary opposites within a greater whole"
This concept is strongly embodied in these Hope Chests. While identical, they are both quite different. Not surprisingly, so are their new owners. Opposites in nearly every way, they are both so very similar.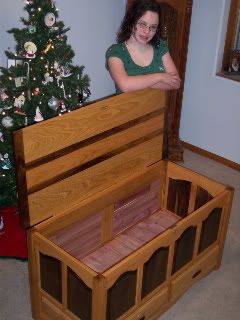 Thanks for letting me share some of my most prized creations.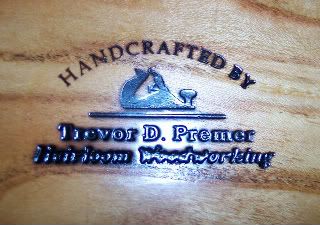 Trev
-- Trevor Premer Head Termite and Servant to the Queen - Heirloom Woodworking
---
---
---
---