---
Apparently I am in a table saw accessories mode. I recently completed a thin strip ripping jig and then moved on to this auxiliary fence for making rabbets on one side and for use with tall pieces (cutting a bevel on the underside of a tabletop for example) on the other. I got the idea for this on a Woodsmith Shop show. The auxiliary fence is made to snugly fit over my existing TS fence. As you can see from the end view, a notch was needed to allow use of the fence's lock knob. The material is a phenolic covered plywood purchased from Woodcraft. It has a thin phenolic resin on both sides and ends up at a full 3/4". It is sold in a 2'X4' sheet for $60. I bought it on sale at 10% off. It is flat, straight and perhaps most importantly, smooth. It took just under one full sheet to make this accessory.
The first picture shows the contstruction. It's essentially a short fence for rabbets, a cross piece or saddle, a second cross piece to support taller side, the taller side and a "gusset" on each end that is notched over the locking mechanism. I used Titebond melamine glue and countersunk screws to put it together: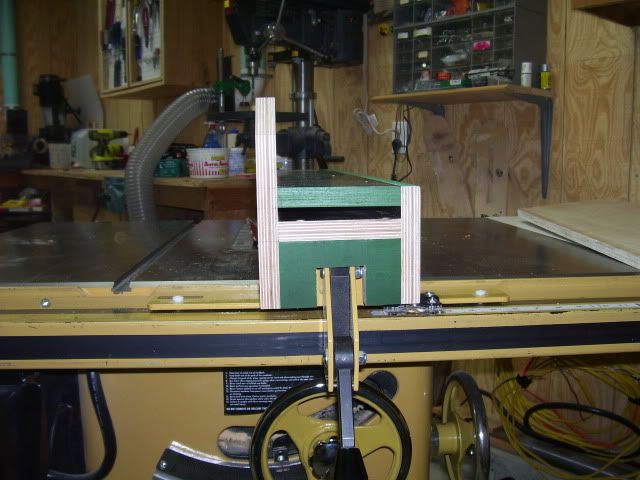 This photo shows the rabbet side before I made the first cut. I drew a line 1/2" above the table: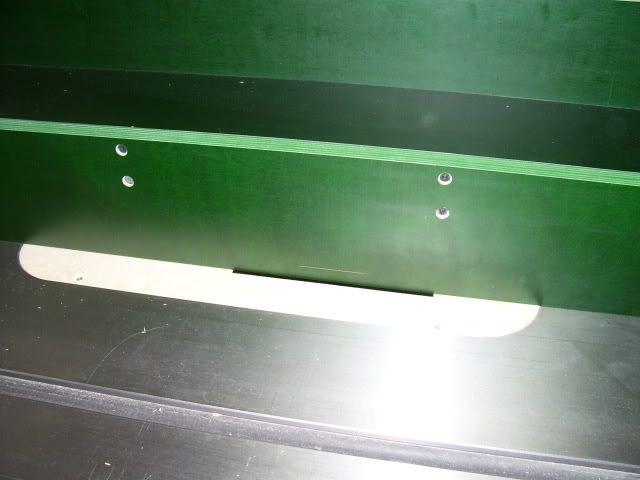 This is after I made the cut which is just shy of the full 3/4" thickness:
So now it was time to cut my first rabbet. I took a piece of "3/4 inch" plywood. I placed the ply on top of the dado blades and brought the fence over until the outside tooth was even with the outside edge of the ply:
Here's the end result, a 1/2" deep rabbet that fits the 23/32" ply perfectly: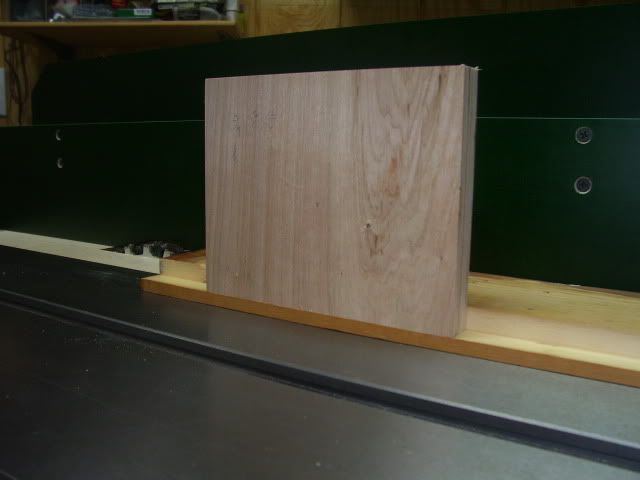 I haven't actually made a cut using the other side but here is a photo of how it would work. The stock would rest against the tall fence and be safely pushed through the blade. The stock shown in this photo is a bit too narrow for my liking but you get the idea:
I expect to get lots of good use out of this. I"ve had the table saw for 6 months now and can finally make rabbets on it. That should be a lot faster than the router table in many applications.
-- On the eighth day God was back in His woodworking shop! Lenny, East Providence, RI
---
---
---
---