---
I have been wanting to make a bunch of cutting boards for some friends and family, and I also wanted to experiment with a few techniques I hadn't tried out yet, like the zig zag pattern and an end grain board! So I went down to my local hardwood dealer and bought some 8/4 maple, 8/4 walnut, 8/4 cherry and 4/4 purple heart. Total was about $120 worth of materials.
This first board was going to be a wedding present for some friends. I wanted to try out the zig zag technique and I like how it turned out.


This board is pretty big 17×23 1 1/2" thick, glued up with Titebond 3 finished with mineral oil. I learned allot trying this technique and I will do a few things differant next time I make one of these
The next couple boards were basic side grain boards with different combinations of maple, walnut, cherry, and purpleheart stripes.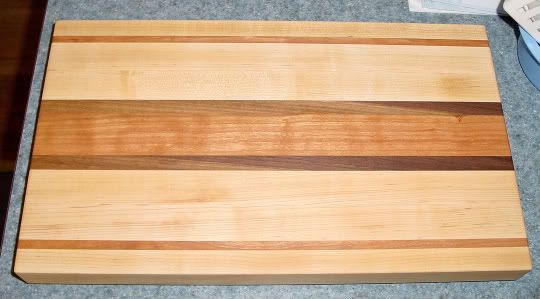 Also finished with mineral oil and on these I started doing something a little differant..I used some screw on rubber bumpers for feet and it works really well to keep the boards in place when using them and it gives them a real finished feel. The top one was 1 1/2" thick the bottom with the purpleheart is 1 1/4".
And here is my end grain try. I wamted to try and do a chess board pattern and I really like the way these came out. I originally was going to glue it up as one board but changed my mind and went with 2- 9×9 square smaller, cheese board style..1 1/2" thick end grain..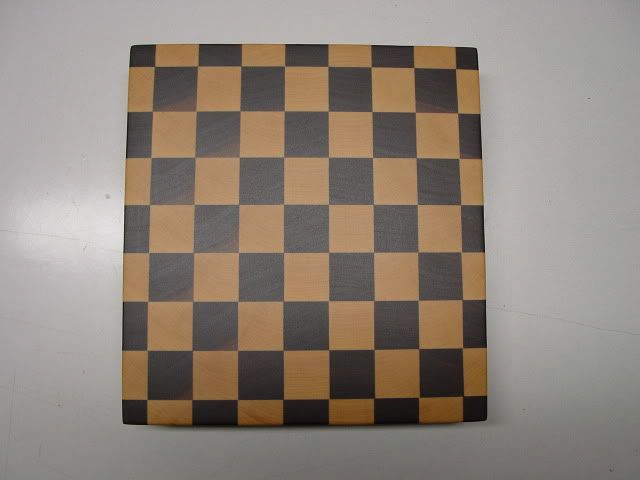 I cut the outside layer in half on purpose to try and frame the board. Again these are finished in mineral oil and have rubber feet. So far everyone that has seen these wants one. I am keeping one for my kitchen…the other one I'm not keeping was sold before it was out of the clamps, and I have two orders for full size 12×16" versions.
So, not too bad..one giant, and four normal size cutting boards from 120 bucks worth of lumber.
-- http://www.facebook.com/pages/DSO-Designs/297237806954248
---
---
---
---