---
Since I am still new here, and trying to figure out how to down load things, I figured I would start with my first piece, and over time add what I have done over the years.
I had just added a family room to our old house and the wife wanted LOTS of windows and BIG windows. So basically when I was done with the new addition, all I had for a T.V. area was a corner with two walls both five foot long to fit a 36inch T.V., DVD player, VCR, the kids video games, stereo etc etc etc.,
At the time, I had built several kitchen cabinets for remodel jobs, and several free standing things like pantry's. But those were pretty straight forward to fit common things. This was the first time I built a piece of furniture to fit only certain things.
This is the piece of furniture that started me down the road of custom furniture making. Friends and neighbors who would come to visit would remark about it, and ask me to build them one or if I could build them something totally different.
As boring and plane looking as it is now, it is still one of my favorite pieces I have ever built (One's first love and all that stuff). It started me down the road in a new career, and showed me wood working was more than just remodeling house's and building kitchen cabinets. That it was actually fun.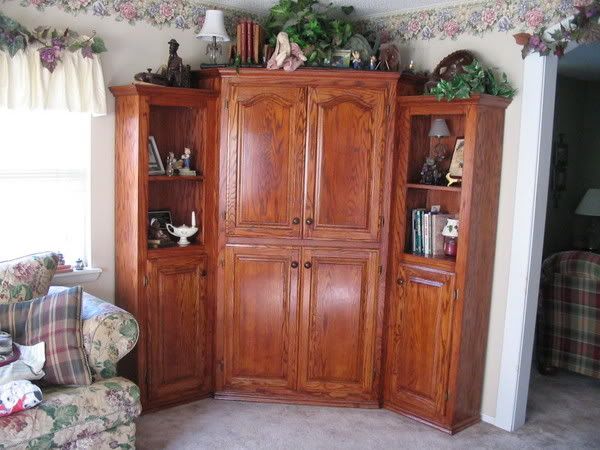 -- Don S.E. OK
---
---
---
---