---
This router table cost me approximately $160, and that includes a ¼ inch plunge router. The stand (19.95) was given to me for Christmas and the table and router was on sale for $109.95, plus an additional $10 for materials . . . and voila my router table.
I was considering the Lee Valley system, and while it would do everything I ever wanted and more . . . it was just too mush $$$.
As you can see the stand has place to store my bits, spare router and odds and ends. The router switch (which was mounted to the table) has been moved to the stand within easy reach. The table itself is mounted to 2×6s with hinges on the back so that the table can tilt. My collet wrenches are mounted on the outside of the stand on the right next to the power cord.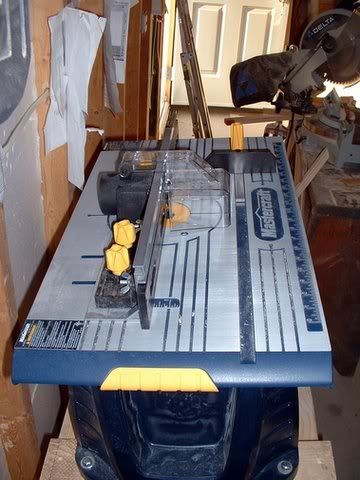 The fence itself can slide into the bit to allow for very clean cuts. These slides can be replaced with wood for an even tighter cut.
When using the vac, the suction actually sucks the lumber to the fence acting like a feather board.
I am quite pleased with my router setup and I recommend the table to anyone.
Oh . . . to mount the DW616 I used a craftsman adaptor plate. I called Canadian Tire to see if they had a router adaptor plate and the young fella in the tools department thought i was looking for a computer part. :)
-- BLOG - http://www.colorfulcanary.com/search/label/Zuki
---
---
---
---