---
Here's my walnut TV stand, just finished last week. I designed & built this for myself; I know that's against the rules! I was going for something with an appealing design, but also wanted it to be functional and allow lots of air flow for electronics, which is why I left the back completely open. As far as what style furniture this is, I don't really know what to call it and will leave that up to you!
Its basically all frame and panel construction with the frame being held together by mortise and tenon joinery. Getting everything right on the legs was the time consuming part and then everything else fell in place from there. Here's a picture of just the legs, followed by one of the frame members: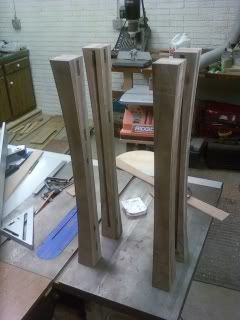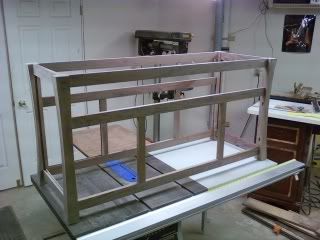 Making all the templates for the curves on the legs, top, and handles was a bit tedious too, but now that I have them, I feel I could make another one of these fairly quickly, plus I might be able to use them for a matching coffee table that I want to build now.
I had written one blog entry on this before I got to finishing, concerned that the plywood in the piece would not match the hardwood, which was darker. I ended up using no stain and going with General Finishes products (local to Wisconsin) for clear coats. I used their Seal-A-Cell for the base coat, and 3 coats of their Arm-R-Seal oil & urethane topcoat (satin). The plywood ended up not being too much lighter than the rest. It actually looks worse in the pictures than it really is.
Well, let me know if you have questions or comments…
---
---
---
---