---
A couple of years back I went with a young friend to his high school woodworking shop to observe as the students made canoe paddles just after the school year ended. The atmosphere was informal so I asked to participate as there seemed to be left over lumber that students hadn't shown up to purchase and mill.
I purchased two ash boards and bandsawed them to shape. Unfortunately they weren't thick enough to get the profile I wanted so I epoxied strips on, the look I wasn't crazy about.
The students weren't allowed to profile the plane of their blades on the bandsaw but the teacher allowed me to, which saved a lot of shaping time. I watched as they spokeshaved their paddles to shape and went out to my vehicle and produced a body grinder with a soft backing pad which made short work of the shaping process.
I finished one of the paddles and coated the blade with fiberglass resin which I orbital sanded, then wet sanded to a gloss finish. The rest of the paddle received a polyurethane clear. I added the black lacquer ring for a small embellishment.
The first paddle served me well for a number of years, then I decided to hang it up and paint a scene on it. I got as far as adding the minwax polyshades mahogany mixed with clearcoat on one side before I thought of taking pictures of the process, and the other blank which was out at the farm in my shed full of wannabe projects.
So here they are, and I hope to get a nice scene painted on the used paddle which I can sell as artwork.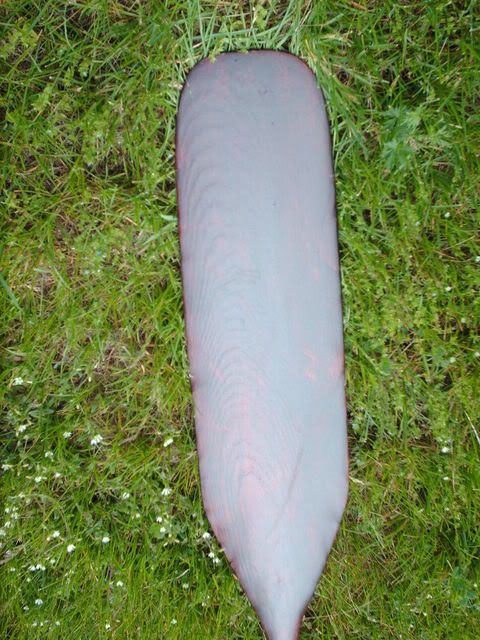 -- Phil Brown, Ontario
---
---
---
---