---
What a nice birthday weekend! I turned 39 today—-and spent the day finishing up my turnings for the Pen Trade…
If you are unfamiliar with the LJ Pen Trade…here is a write up about it. Either way…the box arrived last Thursday night…and I got only a brief moment to pop it open to check it out…got through only the top contents before I realized that I did not have a safe space to spread it all out and get a good luck with a 2 year old running all over and work the next day…so like a good boy with a birthday gift I waited…
Friday night…same deal…no time or place…so I waited…by Saturday morning the sun was out…and I took the box…spread it all out with a towel underneath—-good call…with the bright sun light I could really appreciate the wood—-and did i say the 2 year old was rampaging INSIDE…so I could PEACEFULLY look through all of it…
This was awesome…as other jocks have mentioned…it is an assortment or wood—-a true library of woods…it was really fun just to look at it all…
The top three pictures in the "zoom" are the pieces I made for the trade…a zebra wood pen, a winebarrel oak pen (see below for story on this), an olive wood steel wine stopper and a blood wood cork stopper. ( I hope everyone is ok with the wine stoppers—I checked with Tim and he thought it was cool—-and it is a big part of napa :) ).
The wine barrel pen is a true one of a kind…I took the wood from a used Napa Valley wine barrel that is soaked in wine—-unfortunately the wine soak is not too deep—-but if you look closely there is a red line in the grain that is from wine—-the wood I cut has a strong Cabernet Sauvignon aroma!!! (here is a link that shows a project and how i got the wine barrel tops).
All the pictures below are for the pen traders to get an update…I will ship it out tomorrow after school…
The box was in good condition and heavy…but smaller then I expected—-but after spreading it all out I could not believe how all that got in there…

ANd what that looks like spread out:
I wont add all the picts i took—-but if you click on any of these it takes you to photobucket and you can see many more…and they are sized better…
But here is what I added…
The top pieces have a real story—-they are authentic used wine barrel tops—-thus french oak…soaked in Cabernet Sauvignon…I was only going to put in the redwood…since it is a west coast wood…but then my wife came in the shop and asked about the barrel tops that have been siting there since i finished these.
I thought—-you are right!! This is very unique—-the aroma of wine is strong…so I went to breaking up the barrel top and cutting it down…I was real excited but then after cutting one piece up realized that the wine only soaked into the outside of the wood—-I found a few pieces that it soaked into much deeper—-and there is one that I taped together that will definitely have streaks of wine through it…
Here is a picture of the first break up of the wood—-when i was still excited…

I made one blank yesterday and turned it today (pictured above) and it looks great—-the wood is a truly gorgeous even though by the time I cut into it most of the wine was gone—-but there is a cool distint red line running through the pen that is definitely the wine…but one of the blanks should have much more red deeper.
Here are some wine stopper blanks and parts I added in addition to the redwood and barrel wood (one is blood wood and the other olive wood)—-one alreay has a dowel glued in…and the other i left out so you can use a mandrel if you want…pm me if you want help on this…lots of ways to do it…: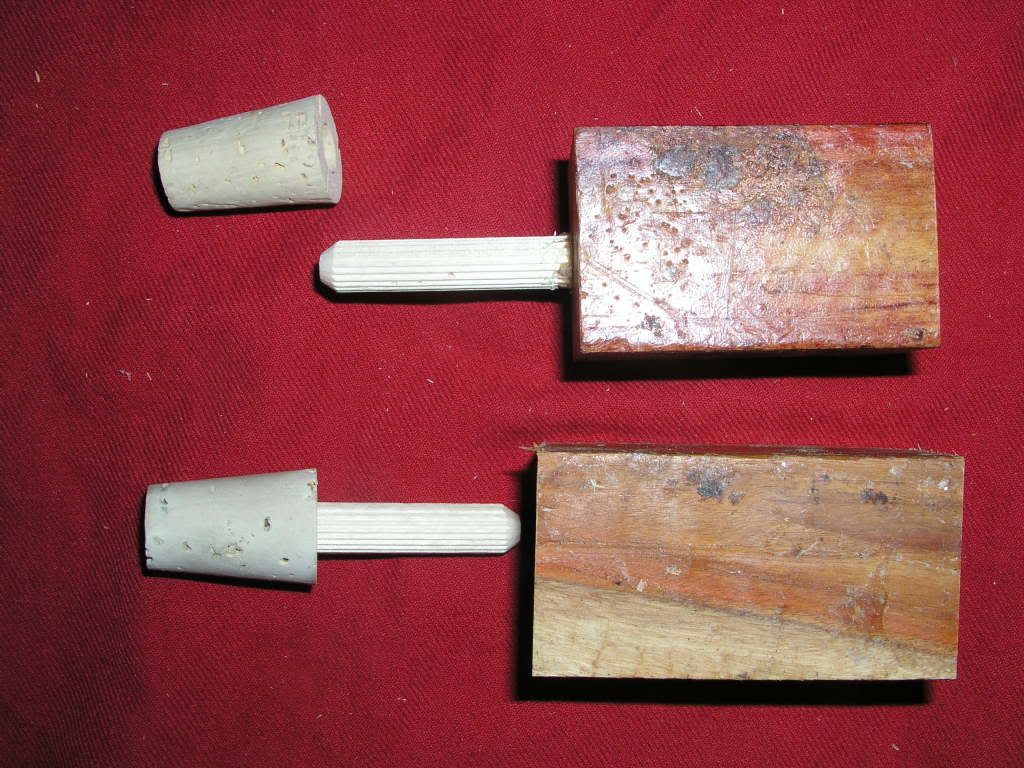 I regret not cutting up more yesterday…after i realized that the wine would not show I did not cut up more to blanks…and could not do more today after all that i did (the wine barrel pen i made was the last thing)...and heck it was my birthday…so i got a lot of time out there…
SO MY OFFER TO ALL JOCKS in this trade...now that I have turned one I will look for more wood that has the wine soaked into it and turn one so you can see what it loooks like and if you like it then I can always send you some…
Well…if you have read all this—-thanks…I really enjoyed it…after a tough start to 2009 it was the real motivator to get me out in the shop…it was super tough to get out there after my dad passed…but it was nice to get some time in the shop again the last two weekends…so this pen trade could have not been better timing for me!!!
Either way—-it was a nice way to spend the first day of year 39!!

-- Matt--Proud LJ since 2007
---
---
---
---