---
Mother Nature provides us with wood with knots in it. That is just the nature of the beast. Sometimes, though, the knots provide inspiration to create something unusual.
I have included two walking sticks / canes which were the direct result of seeing a knot and deciding what had to be done with it.
Part A of the project was a young sappling that had been torn out of the ground by a youngster who was using it to beat up on a fellow playmate in mock battle. After confiscating the "weapon", I looked at it and thought that it might make for an interesting walking stick, to add to my collection. I trimmed off the roots from the rootball, sanded, and varnished it. You will note that from one angle, it bears a striking resemblance to a bird's head with a knot where the eye should be. From another angle, it somewhat resembles an old man's ear where the knot fell out leaving a cavity. A good sturdy walking stick nevertheless.
Part B of the project was another young sappling found in the same bush. The knot inspired me immediately ( but my wife was not impressed). This knotty ( naughty) walking stick has a space for the user's thumb beside the knot, and the knot itself having fallen out, makes an excellent place for the forefinger to rest ( in or about ).
There you go. Using what Mother Nature gives us. LOL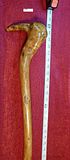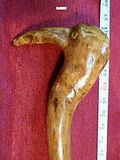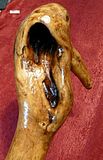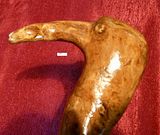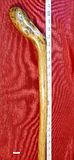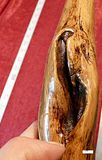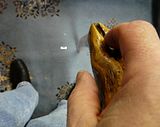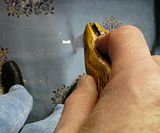 -- jroot
---
---
---
---