---
My brother's birthday was coming up and since he loves cooking and we grew up playing Super Mario Bros on Nintendo, I figured an 8 bit Super Mario board seemed fitting. It's made of 250(ish) 3/4" squares consisting of maple, walnut, cherry and bloodwood. The final dimensions are 14"x20" and 2" thick. I planned on taking more pictures throughout the process, but I was quickly running out of time and got pretty wrapped up in the project. Here is what I do have….
I purchased rough cut lumber, so the first task was to surface everything to 3/4"x3/4" lengths. Unfortunately, my jointer is still sitting in pieces, so I made a router sled to surface one side and finished the other through my planer. Here's a video link to a router sled mishap while surfacing the cherry. http://youtu.be/a5vjpPbJ0VI Needless to say, I was MUCH more careful when surfacing the board once it was completed.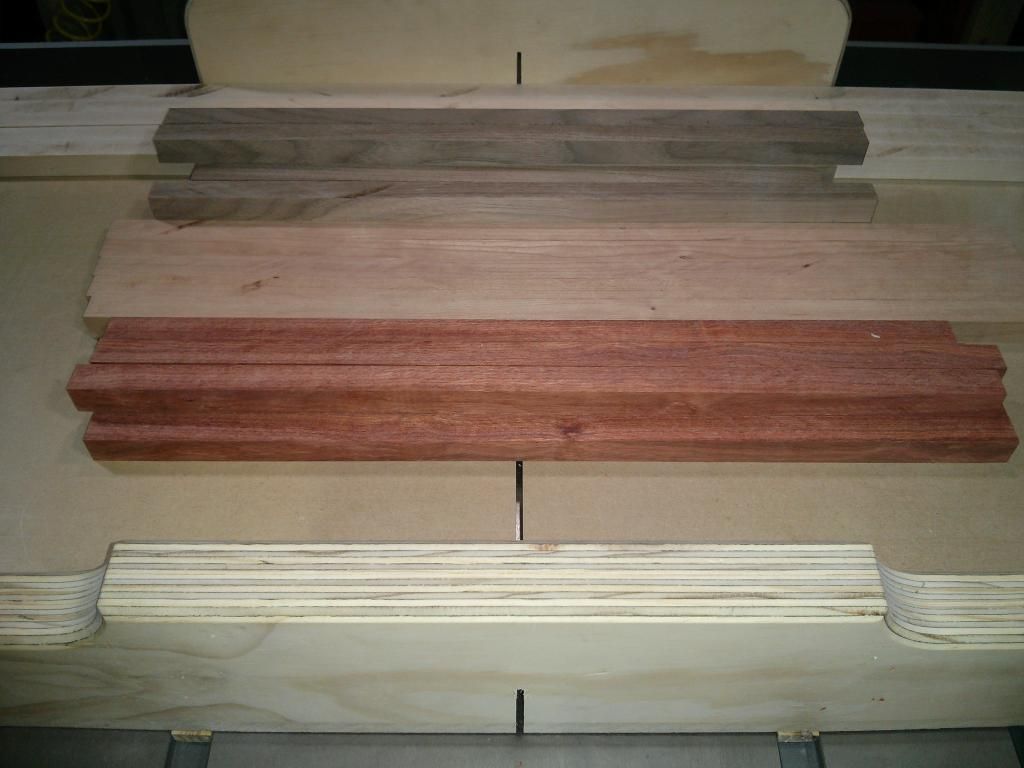 Once all the strips were cut, the next step was to cut them into 2-1/8" lengths followed by a light sanding to remove any edges or splinters.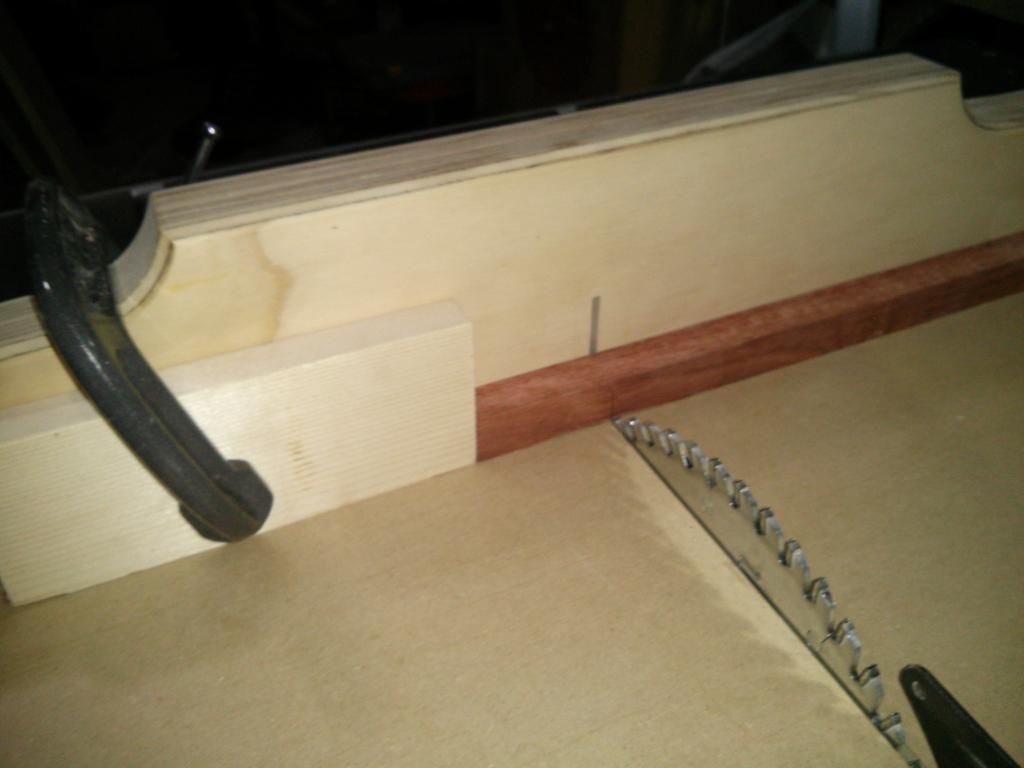 Good times!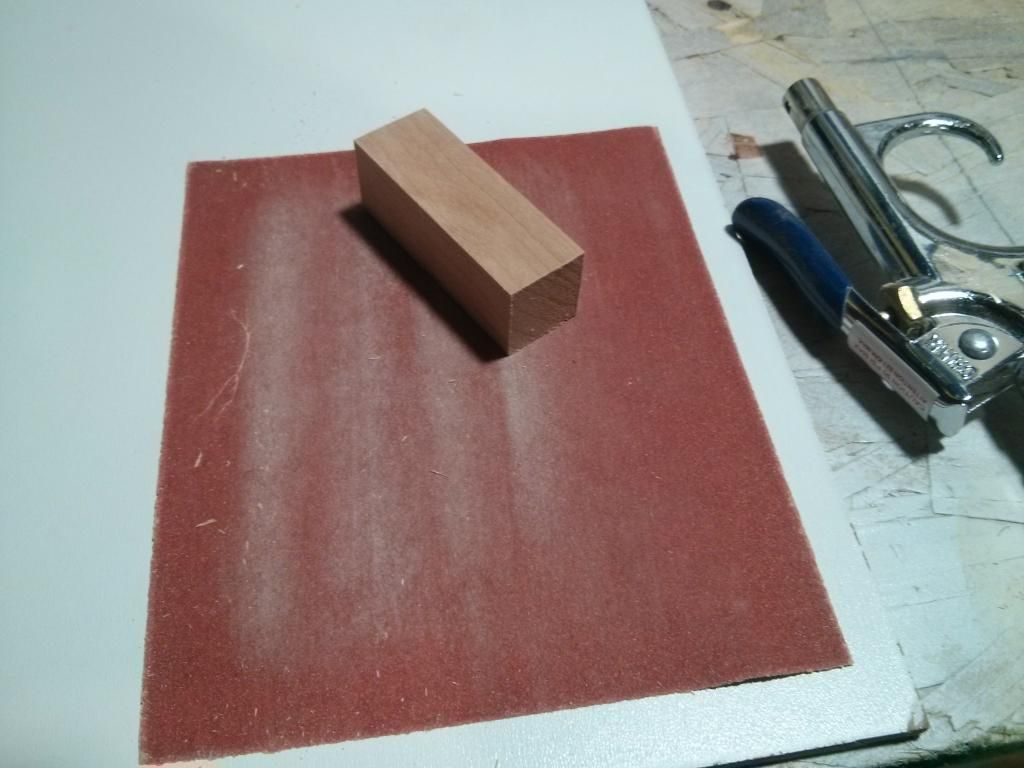 I wanted to do a mock up to see how it was looking and to see if I might run into any issues, which I did. I somehow severely underestimated the amount of maple I actually needed. I don't know how, but I was way off. this made things more complicated because I now had to get the new maple blocks EXACTLY the same size as the originals. Any variation in size will be noticeable when working with this many pieces. Lesson learned…
The glue up was what really concerned me. Since there really is no common pattern in this board, the only way I could think of doing the glue up was by doing little bits at a time. A few of the kind folks here at Lumber Jocks were kind enough to confirm that I was SOL and gave me a few options as to what I could do. I ultimately had to construct the board in three separate pieces which were two sides and a middle. The sides could be constructed in a more traditional fashion since they were all maple, but the middle had to be made three rows at a time due to the glue open time. After I completed the rows of three, I glued all of those together to get Mario and glued the sides to that. There was a tiny bit of trimming and sanding to get there, but I got there.
This is a clamping jig I quickly made up to do the rows of three.
The last step was to surface using the router sled again, do some trimming and sanding, round over the edges and added some feet. Completion was so close to the deadline that I delivered the board to him at his birthday dinner still wet with mineral oil. He took the completed image at the top and would have used mushrooms in the image instead of peppers, but he hates mushrooms and they never enter his house.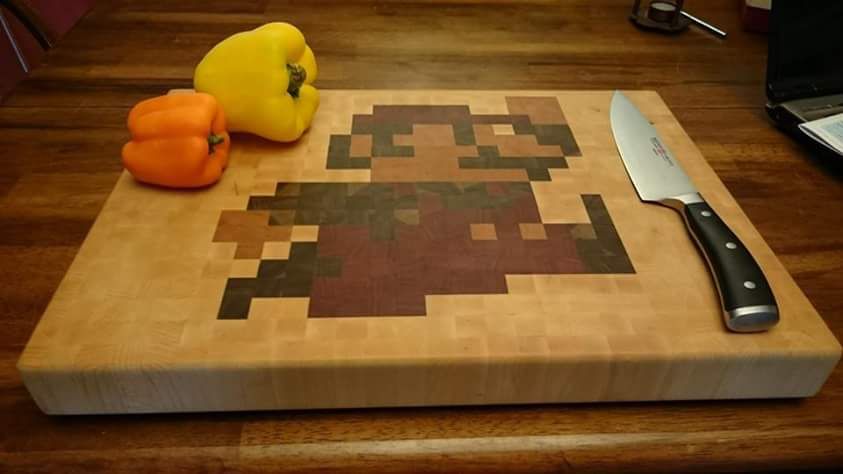 ---
---
---
---