---
Well, I figured that since raising my daughter has kept me out of the shop of late, I thought I would give you guys a look at a project I have been working off and on for the past 4 years. It's called the
"King of Desks"
It's been a dream of mind to make my masterpiece. I decided that it would be my own version of a Wooten Patent Desk. They were made in the late 1800's and even back then they cost so much that some millionaires would settle for a less decorated one. There's one on ebay that has a starting bid of $46,000 for the lowest grade desk and a high grade desk for $250,000.
More reading: http://en.wikipedia.org/wiki/Wooton_desk
The three pictures show it in my old California shop. It's laying on my workbench (a solid core door) face up in the first picture.
The second shows one of the doors setting on the floor and the last is the desk without one door (the one sitting on the floor)
This one below shows the picture I am basing it on. I lost the file on on an old computer and for the life of me I can't find it online anymore. So this picture is all I have.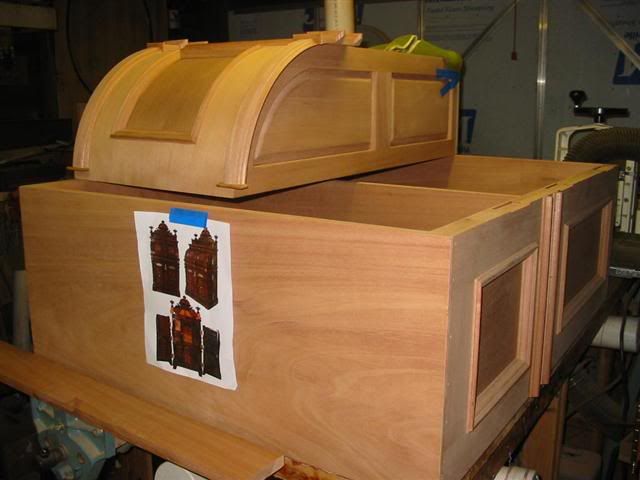 This is close to what I am working for. They are not exactly what mine will look like but they should give you an idea.
-- Gary - Never pass up the opportunity to make a mistake look like you planned it that way - Tyler, TX
---
---
---
---