---
Since I was a kid, I wanted a creepy cemetery in my front yard. Not the blood-n-guts kind, something more along the lines of Hitchcock, who was famous for leaving the scariest parts up to your imagination. Nevermind, said my folks, not under our roof. You want a cemetery, you can do it in your own front yard!
Many moons later, I have my own house, my own yard, and my own cemetery. The columns are made of 1/4" ply with simple 1×4" around the tops and bottoms. Each column is also filled with 120 lbs of top soil (the cheapest weight I could find, at $1/40lbs) to help protect against the unpredictable October weather.
The fence components are made of 1×2 pine, with simple PVC pipe cut for the "wrought iron" uprights.
Most of the tombstones are made of 1 1/2" pink foam insulation, which I cut to shape using a variety of tools, from el-cheapo serrated knives, to a bandsaw, and a scroll saw, and even a basic box-cutter razor. Once the shape was made, I cut the lettering using my Dremel, and painted. The mounting techniques for the tombstones are a trade secret, don't ask unless you have already sent me a bottle of 21-year old scotch.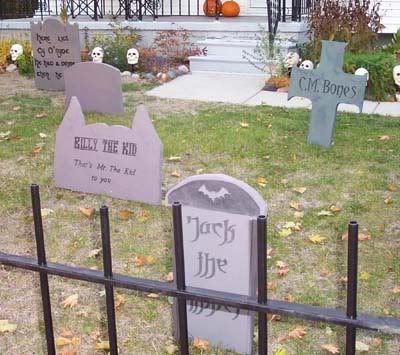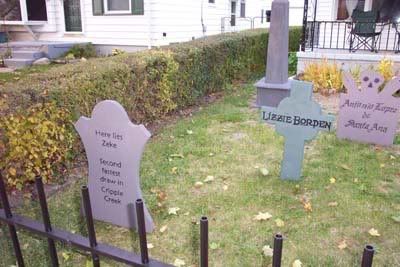 -- Living on the square...
---
---
---
---