howdy folks ,
got some inquiries about some cabinet work i do .
so here is a sampling of that .
first off , let me say i have NOTHING to do with them , i am just a satisfied customer ,
i have used their CNC precut and ready to assemble cabinets for 15 years now , and thought you might like to hear about them , and see what it is all about .
you do have to buy a catalog , mine cost $40 15 years ago , i don't know what the deal is now , as they have 'moved up' and may have another way now , the catalog has drawings and specks for everything they make ,
and comes with a $20 coupon for your first order !
these boxes (in every size from 9" wide to 48") , come in every configuration possible , from kitchen , vanity , storage , island , and desk , the standard materials are white melamine , almond , and birch grain , plain particle board , and mdf .
they will order , or you send them , any material you like , when i went to pick some up one trip , they had bamboo ply , that were being made for a job in the virgin islands .
you can specify dowel , or conformat screws assembly .
all the parts come flat pallet-ed , i specify a lift gate truck delivery (standard trucking delivery), as i don't have a fork lift handy to get them off the trucks .
shipping cost is to the trucking company not to cabparts , but they do give you an estimate and delivery choices ,
and delivery date , (i have never waited longer than two weeks for delivery) !
the main thing i like about them , when i place an estimate order , they send me a sheet of door and drawer sizes for each box , and while they are making the boxes , i am making the doors and faces for the drawers ,
in any wood or stile i like , to meet the owners taste .
i am tired of cutting , line boring (with a jig by hand) , edge banding ,trimming , beveling , and cleaning up parts in my limited shop space , a complete kitchen and baths takes up my whole house and shop and deck to do .
with these , all i have to do is sort the parts (they all have peel off paper tags , with all the info on them ,
for easy identification for assembly .
so here is a quick look , maybe you might give them a try , it is very easy , and they are the nicest people to work with . they just came out with a PDF order form , that is a dream to use . just put in your boxes , and what ever
parts (drawers , shelves , color , banding , or any specks you like ) , get as much , or as little as you want ,
there are no order restrictions , or minimums .
so let's see what it's all about .
.
this is the sides of any given cab , they have the dowel (or conformat) holes , line boring , ready .
i place them back edge together , and put my hinge plates and slides to them now , it is easy to do here , and not wait until the boxes are done , a simple job , as the prefered distances are in the specks sheet in the catalog .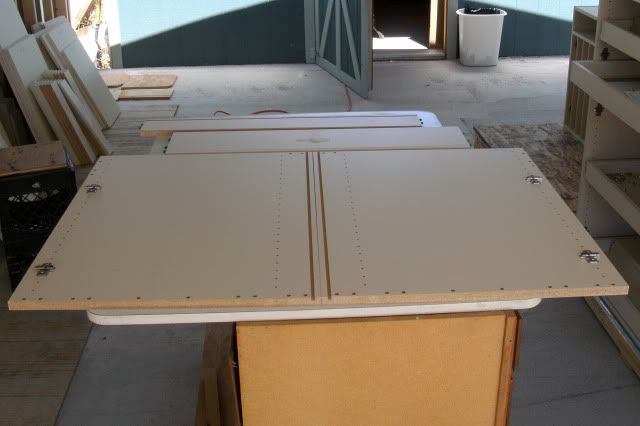 .
here i fill the dowel cups 1/2 way with white 'school' glue , (it is thin enough to saturate well ,
titebond is way to thick , and can 'burst' the material).
notice all tops and bottoms (and any cross pieces have dowels pre inserted) ,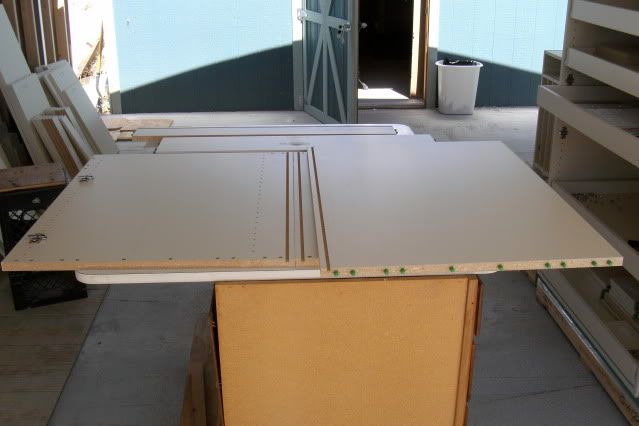 .
the sides and t&b panels have a dado for the back , so i run a line of glue here too .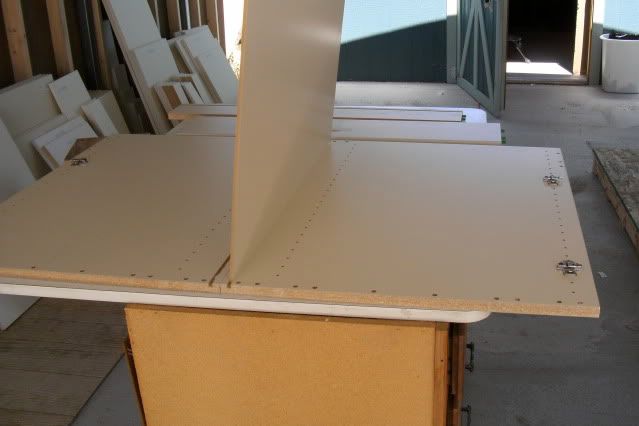 .
clamp , and move on to the next one !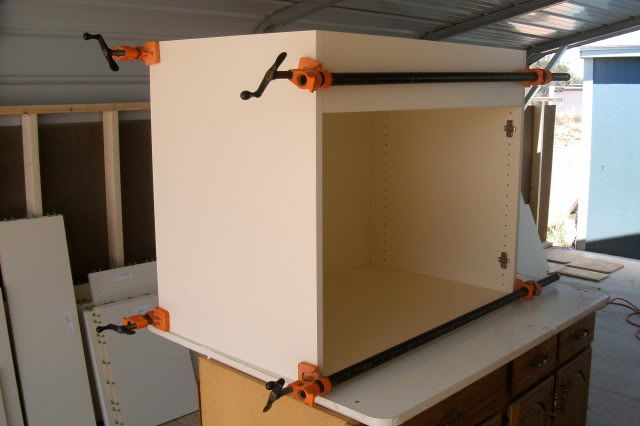 .
this is a corner cab , there are others for carosels and also for angled face access too .
for this one i just specify right or left blind panel ,i like the bases with a drewer in every one at the top ,
the also come without the drawer if you prefer .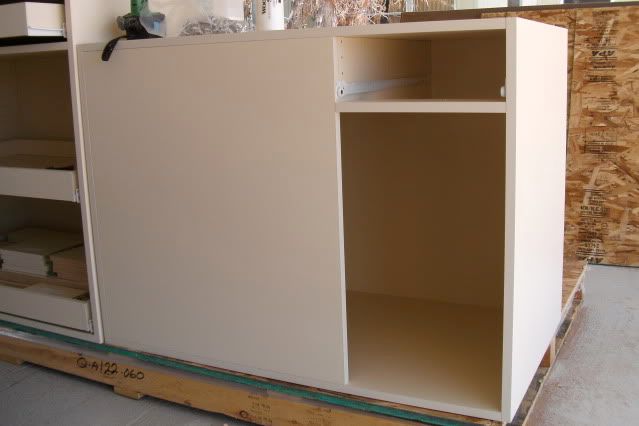 .
this is a 'pantry' box , i order as many roll-out 'trays' as i like .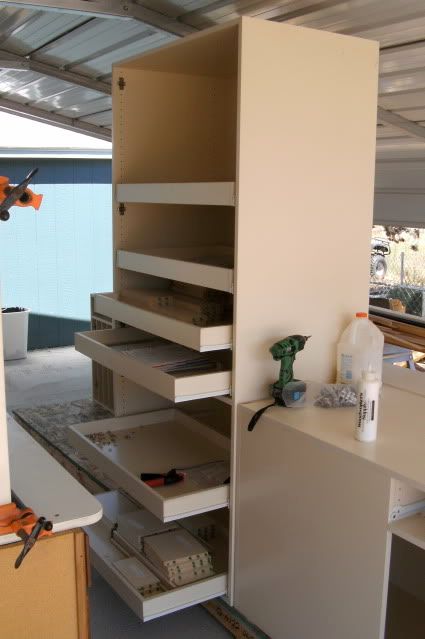 .
here is a detail of the 'tray' with the spacers they supply and the euro screws to go with them ,
they also supply all the shelf clips for any shelf you get too . color matched .


.
so all i really have to do now , is make my own kick bases , and glue the backer ply to the backs of the cabs
top and bottom , the 1/4" backs are inset 1/2" from the back of the box , so these ply strips , (and even they have code stickers on them ) ! so when you mount then to the wall , you don't rip through the back panel .
and atach my doors and drawer faces and any end panels if needed , add what ever counter the client wants ,
(or let a counter guy do it) , and whatever knobs and pulls the client likes .
AND WE ARE DONE !
if you are tired of all the lifting and shoving involeved with box construction ,
give them a peek ,
you won't be sorry ,
and neither will your back !
-- david - only thru kindness can this world be whole . If we don't succeed we run the risk of failure. Dan Quayle
---