some of you may have seen this bowl by sam shakouri ,
http://lumberjocks.com/projects/27141
and my interpretation of it ,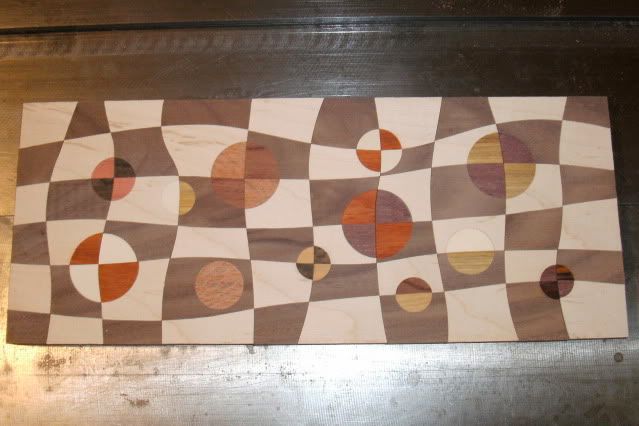 well here is how i did mine , it's a little different than sams ,
in the method ,he will show his as he sees fit ,
thats my story , and i'm sticking to it !
so here is how i did it .
.
i start with two boards of opposite colors ,
here curly maple and black walnut .
cut them both identical ,
and sticky tape them together .
MARK A HASH MARK ON THE ENDS , AND AN ARROW TO EACH OTHER ,
THIS KEEPS EVERYTHING ALIGNED THROUGH OUT .


.
drill holes where you like , it helps to have plug cutters to match the drill size .
pro.woodworker.com , plug cutters .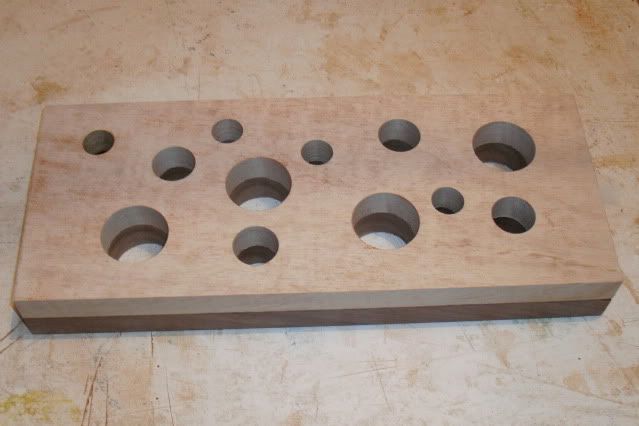 .
cut what ever plugs that fit the holes ,
i used all my exotic colors just for fun ,
and mixed them across both boards ,
so they don't land in the same hole in both boards .
i used a brush to get glue into the sides of all the holes ,
and the edjes of all the plugs , bang them in .
sand all surfaces flat .
re-tape both boards together ,making sure they are
aligned exactly .
in this picture , you will notice that the white board has some rough lines on it ,
this is a maybe cut line . THE IMPORTANT THING IS TO CUT THRU THE PLUGS
IN THEIR CENTER , SO THE KERF RE-ALIGNS and is not offset or at an angle .
MAKE YOUR BANDSAW CUTS SMOOTH , no jiggling around , it shows up in the glue-up .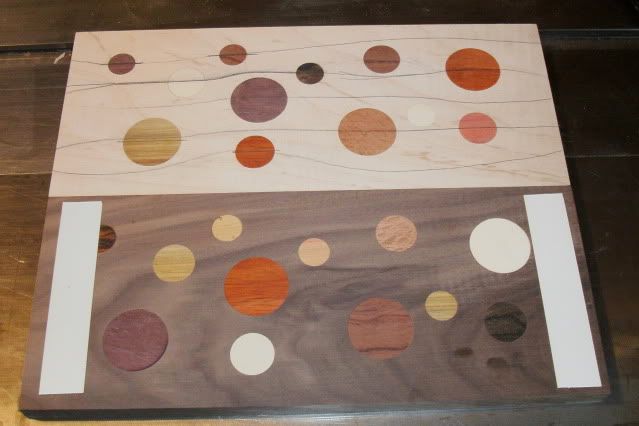 .
glue the opposite parts together , making sure the ends are flush ,
sand , and re-tape and crosscut same as before , and switch pieces again and glue .
this time make sure the sides are flush . and trim all the edges and ends in sequence to both boards ,
so they are still identical .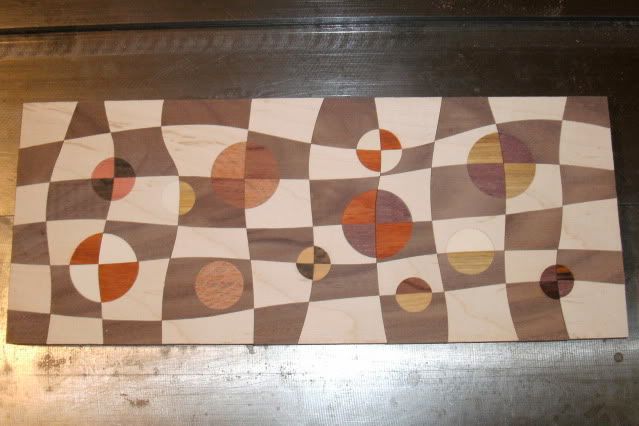 .
re-saw your boards and sand to same thickness ,
and heres what you get .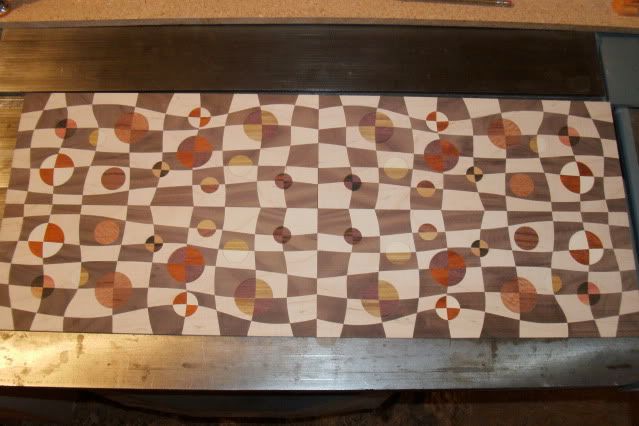 .
the way you do your cuts , and the plug layout is totaly up to you ,
you will always get a koliedescope effect .
thank you for looking , happy nuts to you , enjoy !
and THANK YOU , SAM , for letting me use this idea of yours .
i spent the day working on what to do with these ,
but got burned out , and i have to work tomorrow ,
so i just posted this for now .
-- david - only thru kindness can this world be whole . If we don't succeed we run the risk of failure. Dan Quayle
---