now i am glueing down the inlay , using west epoxy .
the problem being that i don't like puting things ,
( like bricks , paint cans , bucket s of sand or water ) ,
and i dont have enough wood to make cauls .
so back to an old trick i learned in the fiberglass boating world .
as i think in a vacuum , it's only natural to work in one too ?
so here it is .
.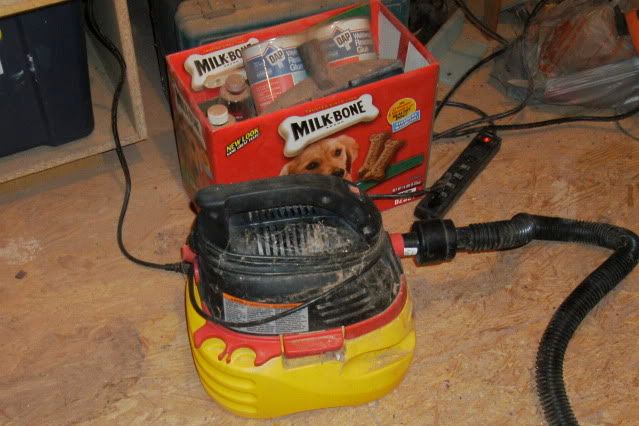 .
a vacuum is not pressure , it is the absence of pressure .
when they went into space , it wasn't like going down
deep in the ocean , where the weight of the water gets heavier
the deeper you go .
if you go out in space , a vacuum ( space ) ,does not get any more empty ,
than it already is . so if you want to travel in space ,
you only need to bring the pressure you want to operate comfortably .
the fuel and oxygen tanks and such , only need to be strong enough to hold the stuff together ,
not keep out the vacuum , as it just isn't , zero pressure !
if you go outside without your ' pressure ' suit , the internal pressure in your body will rip you apart ,
because our body's are not built to keep things in , but to keep things out .
air doesn't weigh much , but gravity has more pull on it than the vacuum of space , which has no pull .
so to gluing my inlaid table down , i used a vacuum to let the air pressure in my house to force the inlay down ,
by covering it with bubble wrap the space between the bubbles lets the trapped air escape thru the vacuum cleaner ,
a cheap shop vac , thereby letting the air pressure force and hold the parts in place .
as i don't have the money for an expensive vacuum forming bag , i had to improvise .
the shop vac is a far cry from a dedicated vacuum for this , as it sucks some air , but is not air tight .
but i'll take what i can get .
air pressure at sea level is 14,5 lbs per square inch . so this helps quit a bit ,
and it is distributed evenly everywhere on the inlay !
.i start by laying out some stops at 90 degrees in the center ,
and sreading my epoxy with a notched trowel ,
in that quadrant , and placing the pieces in their place .
to keep them from sliding around , i put a strip a the edge and push them until they are even and tight ,
then tack it down with mi brad shooter .
the stick is mi radius , it lets me know when the back stops are even .
.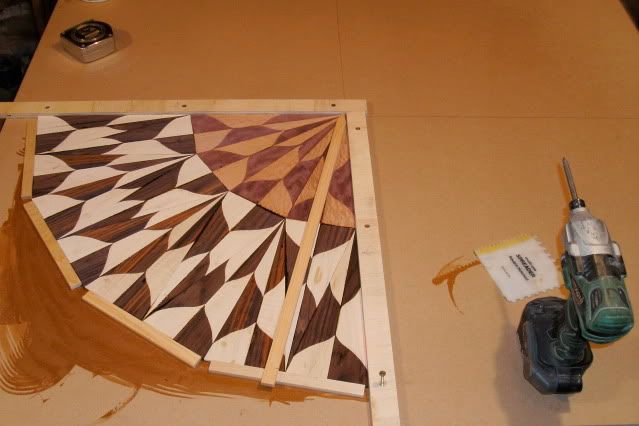 .
now i just mix enough glue for a quadrant at a time ,
and do the same for all of them .
.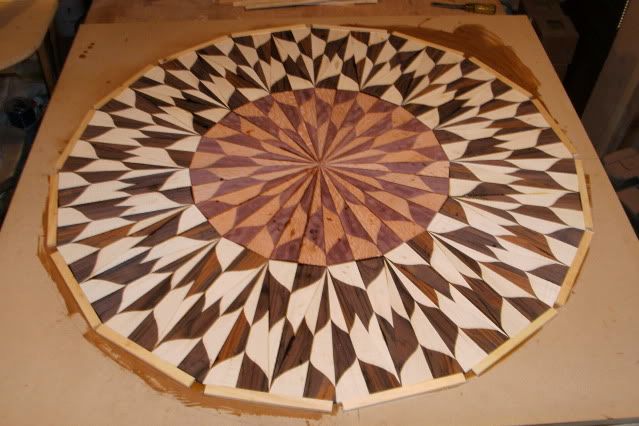 .
here is my vacuum pickup adaptor , there is a dado in the bottom of it to let the air come to it , and not just snap tight to the wood beneath .
.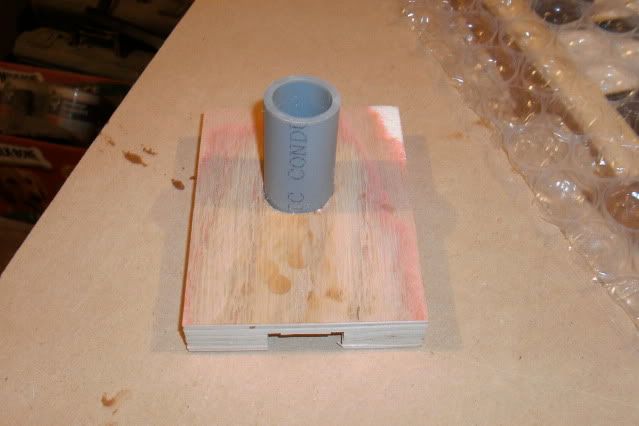 .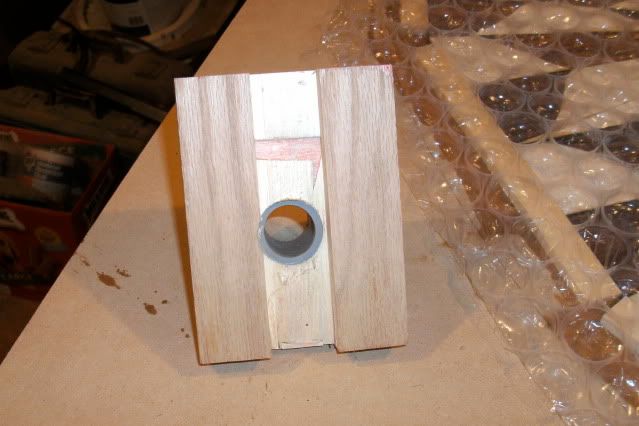 .
here is the pickup in place , with the bubble wrap ( smooth up ) .
.


.
here we are with the sheet of 4 mil plastic over everything and the pickup coming thru a slice in it ,
and the edges taped to the table board , to seal it off .
.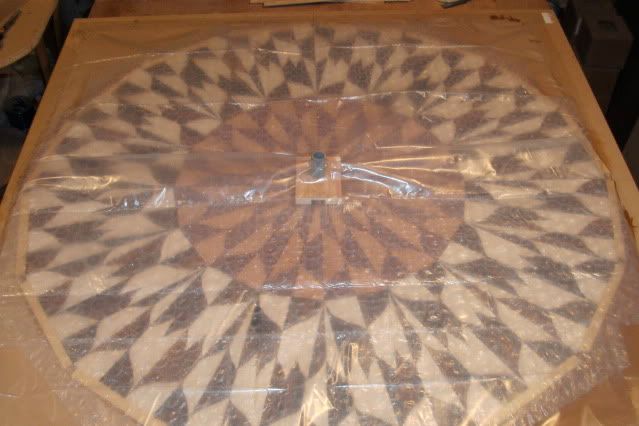 .
and here with the shopvac hooked up and running ,
notice the plastic is clearer than the last picture ,
because it sucked to the surface .
.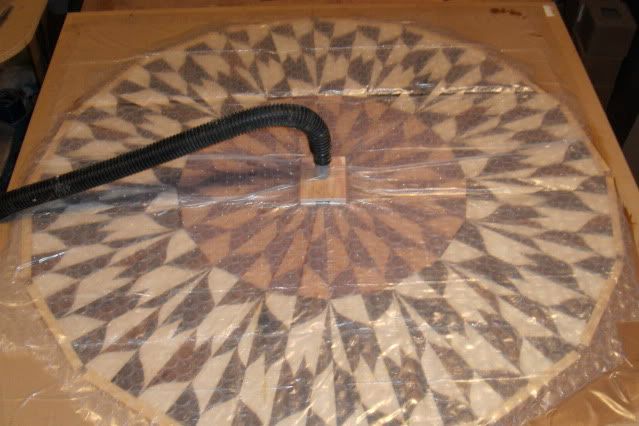 .
i let it run until the glue start to turn to honey , and has its own holding power .
then i will leave it to cure for a day before working on it again
total time to here ,15 hours over 3 days .
and my mind is still as empty as ever !
-- david - only thru kindness can this world be whole . If we don't succeed we run the risk of failure. Dan Quayle
---