Been awhile since I was able to post. Dentist messed up my jaw and have been in constant pain since just before Christmas. After seeing specialist they decided it wasn't my teeth but a torn ligament in my jaw. At least I can concentrate now that the pain is controlled. Enuf of my lamentations…let's see if I can remember how to post the pics. ;-)
I do not have any photos of the sides being put on as I was home alone. It is quite a chore, as you have to temp. hang it, scribe some lines, make some cuts, recheck, then glue it down. I actually did mine in two steps. I hung the back 2/3rds with a scarf at the front, then hung the front third. Much more maneagable when you are working by yourself. The front third is the hardest as you must get the compound bend in the wood. I was able to use my body weight to get it most of the way and then use a clamp to draw it down the rest of the way on the first side. The second side was more difficult as I didn't have a clamping area. I had to get two other people to put their weight against it as I screwed it down. Of course this had to be done twice for each side; one for the dry fit and finally the glue down.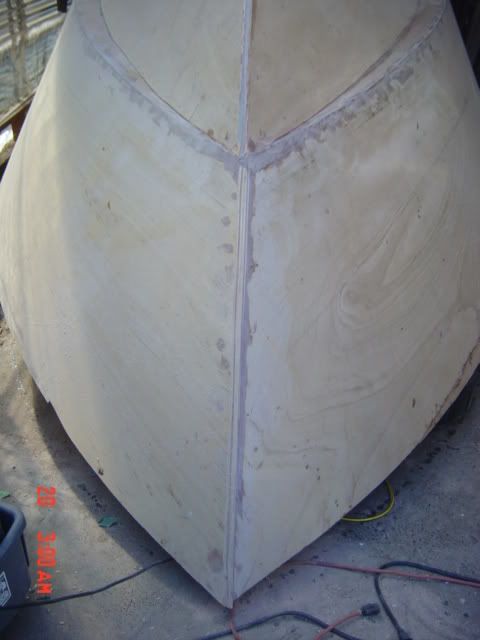 Next came glassing the seams, sides, and bottom. My son Jeremiah showed up to help out.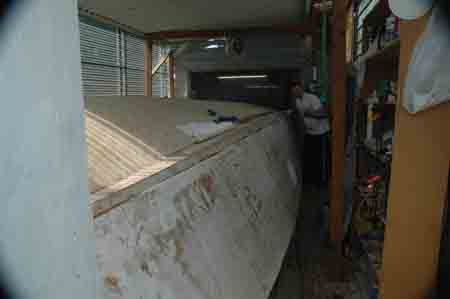 Here are the pics of the hull with one of them upside down so you can see it looks like a boat. It is water tight at this point and would float if put into the water.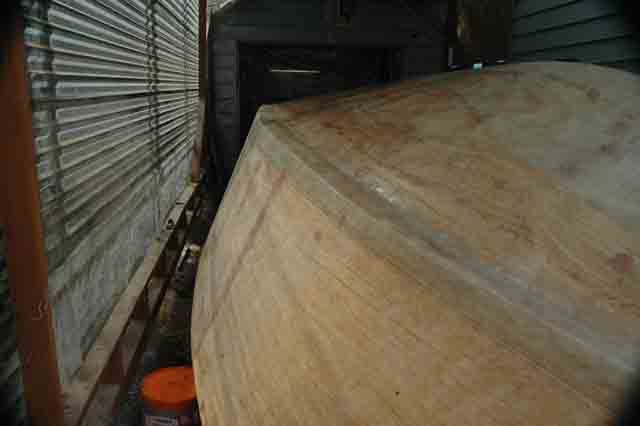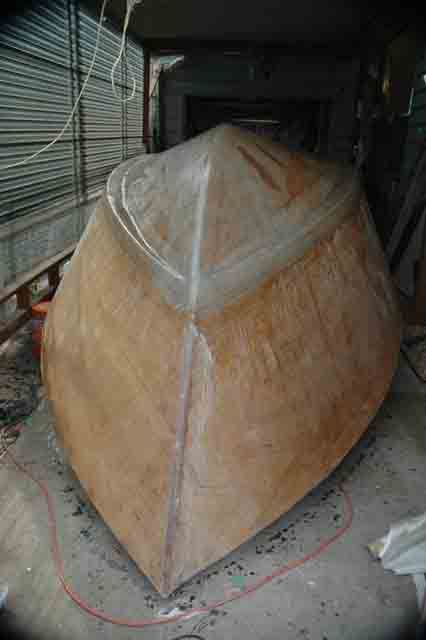 The next pics show the spray rails added with will help knock down spray as you are running.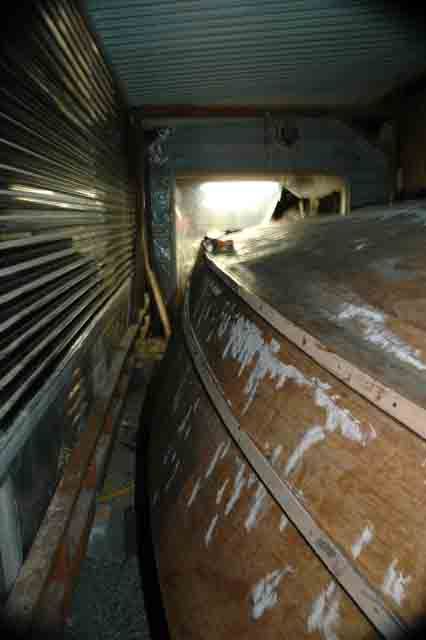 So that is it for my photos so far. I have added the bottom strakes, but do not have any photos of them yet, and I don't want to take the tarp off to get them. I have also started fairing the hull. As you could see in the photos the white areas are where the seams and drips have been scraped to start the fairing process.
The next updates will have to wait until I get the hull moved into my new shop, and start working on it again. It will probably be two more months before I can get to it.
Thanks for looking again. I will post as soon as I can get to work.
-- papaj, Oregon
---