Howdy all….....since joining LJs a few months back…..... I must admit that…..... I am still a Novice woodworker …however,...... under the direct tutelage of my good friend Patron….and indirect tutelage from everyone here at LJs…....... I have reaped an enormous amount of woodworking knowledge…......albeit though….what has sunk in…..is just enough to make me dangerous.
Having done some small projects for the LOML….and making some shop aids…...the dangerous part comes to play when I try to do something without the proper tools or using the arsenal of crap tools that have accumulated over the years…....which only results in frustration and a crap product.
Having realized this in my old, feeble mind….....I earmarked a few more of my Tinker Toys for the yard sale bin …..and set off looking for some better toys. Opening my wallet and finding very little funds to accomplish this….... I decided to sacrifice a a rifle and hand gun for the cause. Over the last couple months….this is what has happened in my Novice World:
Vise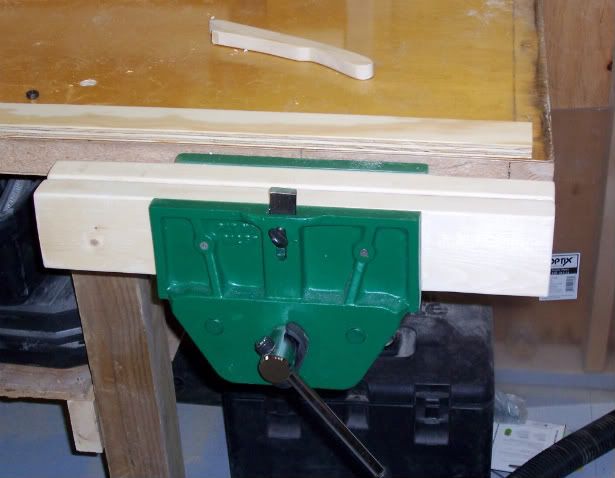 On sale at Woodworker Supply at the end of Dec for $70.00…..Quick release…..10" jaws…opens to 13"
Finish Nailer
16 ga Porter Cable Finish Nailer…..Model FN250B…used but not abused…....$50.00 from local Pawn Shop
Sander
Skill 4" x 36" Belt/6" Disk Sander…... Model 3375…... $110 at Lowes.
Planer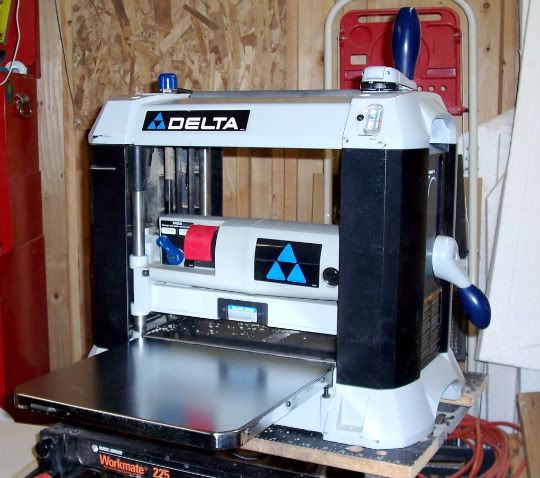 Delta 13" Planer…..Model 22-580…..$220.00 from Pawn Shop…....great shape appears to have had very little use….runs and works good.
Hitachi 10" Table Saw..Model C10FL…...$499.00 at Lowes…...on clearance
Total…..$950 plus tax for some missing necessities and a replacement tool.
The vise makes a multitude of tasks soooo much easier…...the finish nailer was added for some cabinets and general carpentry items that are scheduled for the future(mostly Honey do)........the sander was added cause all I have are hand sanders…....not the best but does what i need done now….....the planer cause it is a necessity and the price was right…....and the table saw to replace my small wobbly, unstable, inaccurate fence….. black and decker.
This past Saturday… I purchased the table saw and by a fluke found the planer…....Sunday…...Patron came over for an assembly party….....I figured that if anyone knew how to assemble and properly setup a saw….....David was the guy!!!.........after a breakfast feed….. we proceeded with the assembly….....the 1 1/2 hours assembly time quoted in the manual is more like 3 or so….but all went well.
David checked it all out and found the saw was pretty well set at the factory. Having never had or been around a planer..Patron checked it all out and gave me the dos and don'ts lecture…..and showed me how to plane a piece for maximum effect….After all was checked out…......we retired for a roast chicken dinner.
A quick note…....After reading many reviews on different table saws….....I settled for the hitachi as it is a 1000% better the what I was trying to use and the price was in my range. .........I know that obi reviewed this saw a few years back and experienced a problem with dust collection which caused a fire…........hitachi did a complete redesign of the dust collector and all is well….I will review this item at a later date.
My frustrations are relieved and elation has set in….....I now have better/safer equipment with which to pursue my woodworking interests. On with the projects!!!!
Thanks again to Patron for all his help!!!!
My boring saga is now come to and end…..adios for now!
-- Doug, New Mexico.......the only stupid question is one that is never asked!........don't fix it, if it ain't broke!
---