Howdy again….......thought I would let ya'll see what 7th graders do in woodshop….....
This is my 13 year old son, Tom holding the knick knack shelf he made last spring (12 yrs at the time of build)......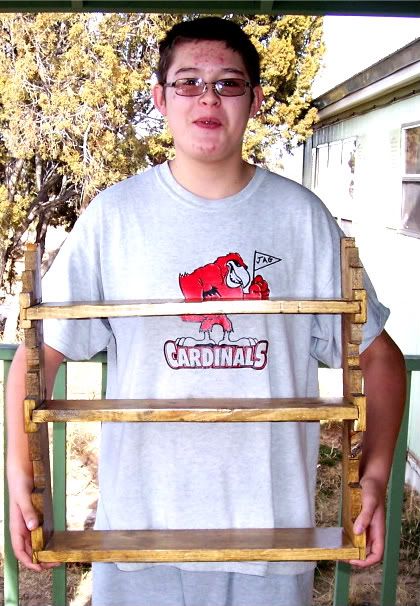 Here's some pics of his shelf….....
Side view….....and
Front view
The piece is made from pine and he did a light mahogany stain….....the students were given the wood …...as he said…long wood. All cuts were done by hand, dadoes by chisel and mallet….no power tools. Assembly was done with glue and counter sunk finishing nails…..then filled and sanded.
All in all, I think he did a great job on his first project and I'm proud of him!!!
Tom…..ya done good!!!!
What a great opportunity for the youngsters to be able to learn a craft in school…....unfortunately the 8th grade program at his school was canceled. so no woodshop this year. Hopefully…next year at the high school the wood program will still be in tact.
Tom was really excited about this program and was rather disappointed that it was canceled. He has taken a great interest in my doings in the shop…....and I have been teaching him general shop safety, safety when operating tools and tool setup.
Patron has offered his shop, expertise and knowledge next summer to train Tom in basic woodworking. Then in the fall, he will enroll in high school woodshop(if it's still being offered).
As I've stated before in comments in different blogs…...it is a shame that so many school systems are doing away with the arts and crafts aspects of schooling…....woodworking, machine shop, music and art to name a few are all disappearing. We need to voice our opinions to the school boards…......I know I have on many occasion.
Thanks…...hasta luego.
-- Doug, New Mexico.......the only stupid question is one that is never asked!........don't fix it, if it ain't broke!
---