Things are a little slow in my shop these days….. with holiday preparations, work and being a taxi driver for the young'uns…..but have had a chance to do some small things.
Having never posted any of my so called projects…..let me show you one of my old pre-LJ projects…...my wife wanted a window stand for her plants. All I had was some left over 2×4s and an idea….....I measured the window width and sill height and went for it…...the 2×4s were ripped, cut, sanded, holes counter bored for lag bolts for leg attachment and screws for the top….... all I knew at that time was butt it together and screw it down…... finish was simple….....a couple coats of thompson's water seal and a couple coats of turtle wax.
It's still standing and the plants are happy!!
One of my new little projects again is at the request of my wife…...she is an avid craftsperson and needed a frame to stretch material over for making embroidered pillow cases…....not a clue!!!.........formulated an idea..found some decent 1×4 cedar at lowe's….....ran it thru my jointer….ripped it in half…...more jointer action…....cut some rabbets…....cut a kerf in the edges…....routed the edges…...sanded forever…...glued and braded the joints. (All the above actions i.e edge routing, rabbets, kerf cutting compliments of training from my guru master Patron). After a little more sanding, I plan to finish it with a natural wood stain and a bit of wax.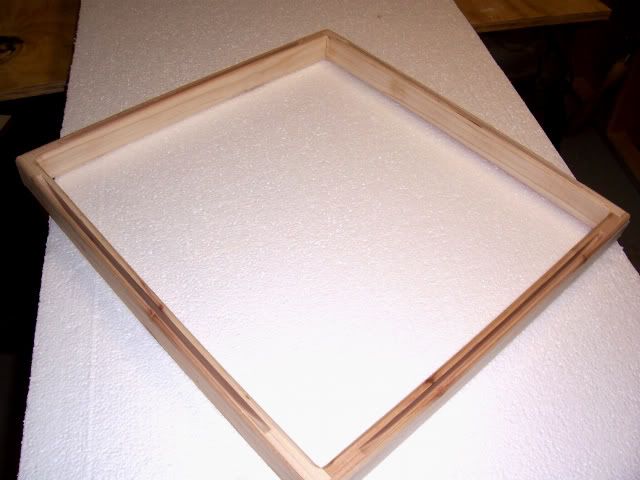 How's it work?.........the material is stretched over the top (bottom side in photo) around the sides to the bottom and wedges are inserted into the kerfs. A couple trial runs and it works great!......you can bounce a quarter off it(my drill instructor would be proud)!...... need to finish it up!!!
Moving on to the borrowed part of my little show and tell…....actually it's not a borrowed item…but a borrowed idea. While working on my main project (which I previously alluded to), I found that I needed something to hold my work pieces from moving whilst sanding etc….......looking thru catalogs , the item I was looking for was fabricated from chintzy plastic to brass and ranged from $8.95 to $65.00 for 4 ea…........being economical…..frugal….or cheap(one of the 3 or all)......used some scrap 1×2x1/2 maple, 1×2x3/4 oak and bought a 3/4 dowel for $3.49 and fabricated my own…......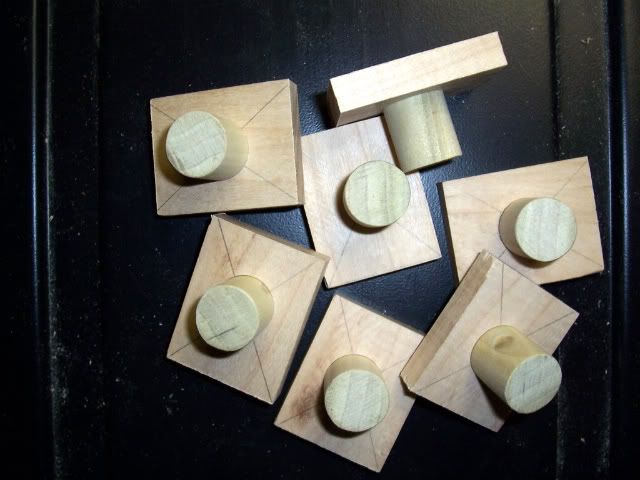 Home made Bench Dogs….......these are maple…......got 10 of maple and 12 oak…....total time for layout, drilling, cutting and glue up was about 2 hours…....they work like a champ and only cost $3.49!!!!
Time for the blue part…....not sad blue but happy, good blue…......a few weeks ago, I went to visit fellow LJer Margy…..her computer needed a bit maintenance and she wanted some refresher training …....having got that all done, coffee, twinkies, etc…...she gave me a tour of her shop and showed me some of her fantastic work…....whilst perusing the shop…...I commented on one piece of equipment she had..stating that one day I need to get one…...she offered to sell me one of hers…...having no spare cash at the time…..I passed. The following week…..thinking how useful the equipment would be…..I called and ask her how much….....she told me …not much..again….how much….....and I was told I could have it as a gift…....for being a good friend and helping her out and for donating my RAS to Patron…......I an now a proud owner of….....
A Ryobi…9 inch tabletop band saw…Happy day!!!
My many thanks to all the LJers that have contributed to my learnin'.......especially to Patron for the hours he has spent explaining and showing this old dog some new tricks….....and a very special thanks to Margy for my new shop toy!!!
Thanks again Margy and Patron!!!!
Having bored everyone to tears by now…....my show and tell is finally over….....adios til the next time.
-- Doug, New Mexico.......the only stupid question is one that is never asked!........don't fix it, if it ain't broke!
---