During my short tenure with LJs, I have reaped a massive amount of information, tips and techniques pertaining to woodworking in general, tools for the shop and shop setup. The last couple of weeks, I have added a few items, subtracted some things and spent a lot of time practicing procedures.
After spending a few evenings in the shop with a cold nose and numb hands, I decided it was time for some heat. One of my colleagues had given me a reclaimed propane heater, which was beat up and leaky. One day was spent tearing it down, repairing, painting and installing.
Its an old Dearborn 18000 btu space heater that heats up my 12×16 shop in about 15 minutes.
My next item was the set up of a Craftsman Model 149.236223-4 1/8 Jointer/Planer, which I picked up for $40.00. It looked as if it hadn't been used much, had a bit of surface rust on the cast iron table, the fence was hanging by a couple screws and adjustments were all haywire.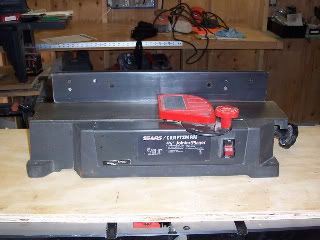 This is not a light weight…....weighs in at around 45 pounds.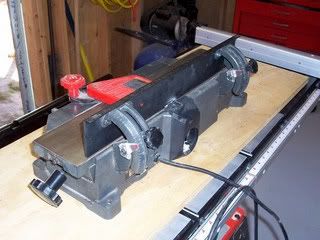 After a little rust removal, new screws and a lot of fiddling around to get the fence aligned both horizontal and vertical, voila…..works like a champ. No manual and Sears doesn't carry it any more…..but all functions, adjustments and cutter replacement are pretty much self explanatory. It could use a new set of blades…..and Sears doesn't carry them any more. Any suggestions?
Along with the jointer, I have added a 5 " Rigid R4511 Random Orbital Sander, a set of Rockler under size plywood bits and a set of chisels. Fabricated a couple push sticks of various sizes. Numerous bargain basement hand and power tools have been transferred to the storage shed for future yard sale items.
I have laid out plans and started my first real project. Spent many hours practicing equipment setup and various cuts that will be used for the project.
A couple days ago, David (Patron) stopped in for a visit and was extremely helpful in getting my table saw fence adjusted correctly. And naturally, seeing I had now had a jointer…...he had to check it out and showed me some do and don't things, showed me what a snipe is and how to prevent such an animal and basic operating techniques.
What a guy, he has more woodworking knowledge in his little finger than I have in my whole body. And he is always willing to answer questions or do whatever is necessary to lead an old horse to water. Don't know what I would do without him! As a parting thought…..he spied my cheap answer to compressor hose and extension cord storage…and thought it was a good idea.
A couple pieces of scrap 1×2, a couple screws and a wall stud…......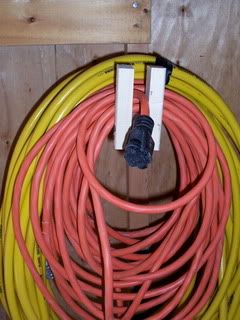 .........and presto, a storage for hoses and cords that don't cost anything.
Since I have most likely bored everyone to death…....my ramblings are done for now. So…...Adios until the next time.
-- Doug, New Mexico.......the only stupid question is one that is never asked!........don't fix it, if it ain't broke!
---