Finally, I have an approved design to proceed. The ghost image in the foreground is where my island will be after I knock out the walls between the galley kitchen and the room next to it. The big gray thing on the right is my fridge (it will stay there). The square on the right hand wall is a window that I cannot move without LARGE expenses – so it's going to stay.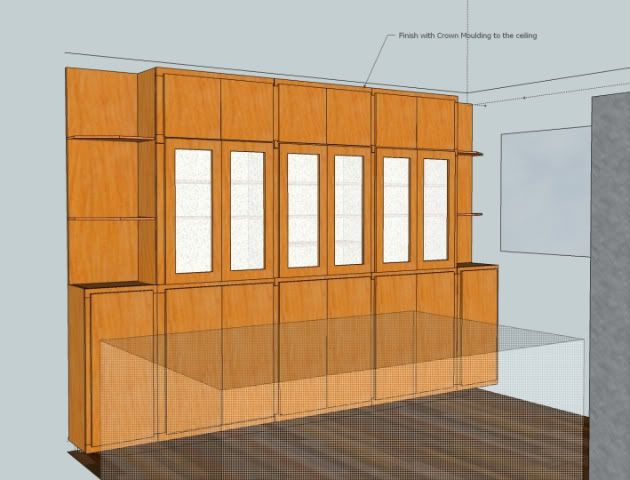 I added translucent glass to see what the arrangement will look like. The interior shelving is sized to hold my dishes, glassware, etc. We don't want pot lights inside – we try to be as green as possible and it feels like it would be a waste of electricity even if it looks fantastic. We would probably install them but never turn them on.
My next decisions have to be around the style of the doors. I am very keen on arts and crafts, and I hope I am up to it. I am also gaga for anything William Morris and anyone he hung around with at the time but I would take only elements and not go whole hog because it would simply be way too elaborate for me. I know already that arts & crafts will be a challenge because there is less room for error when the design must remain simple yet precise. I keep trolling this site and the web for illustrations to find good examples to follow.
I've been looking through Lee Valley Tools for hardware. I know definitely I want brushed nickel or pewter (I don't like the look of brass or gold) and it needs to be clean lines to remain classic.
I have a feeling that this is going to take me a few years (!) but it's the process of doing it that is most rewarding. There are so many prerequisites for this project. The first is shop expansion downstairs so I can get a router table set up which meant moving a closet (done!) and knocking down walls (almost done), moving the bathroom door (almost done) and moving electrical outlets all over the place (in planning). The great part about this is I have an excuse to steal more room for the shop :)
In a previous post I stated what women want is a new kitchen. I am double checking my real motives. I think it was more shop space!
---