I have great news for you if you're using one of the popular personalized homepage services, Netvibes or iGoogle. With the following two new widgets you can easily add the latest LumberJocks content to your home/start page:
LumberJocks At Glance Widget (screenshot)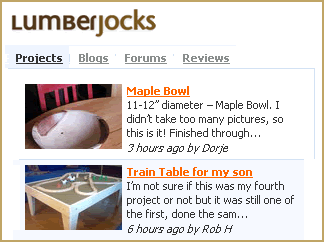 Woodworking Projects Widget (screenshot)

Click on the pictures above for details and subscription options.
These widgets work even on the Apple Dashboard and I have also prepared website compatible versions – you can find copy-paste code on the revamped LumberJocks Widgets&Badges page.
It's time to integrate LumberJocks into your daily Internet life.
Next major feature coming? LumberJocks Groups ;)
Enjoy!
---