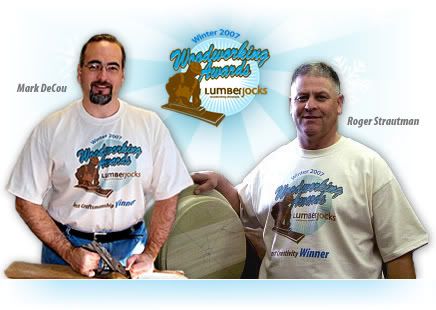 Mark DeCou – Winner of the Best Craftsmanship category
Roger Strautman – Winner of the Best Creativity category
How does success in our Winter Awards feel?
Mark: I am honored and humbled. I received a lot of encouraging comments and support, and the LumberJocks have been a great community. I have been enriched by being a part of it.
Roger: Well, at the time when I was notified that I was a winner I had to pinch myself and then I felt a rush of adrenaline. Now I feal like I must produce something as good as the last project or I'm a failure. I know that isn't how it works but it's hard to convince myself of that.
What inspired the design of your winning project?
Mark: After I received the commission to build a simple cabinet to hold the electronic sound equipment for the church, I went over to my dad's house on a Sunday afternoon and brainstormed with him about new ideas, concepts, and what functionality issues I should be concerned about. He is very creative and has forgotten more about woodworking and furniture design than I have learned, and I appreciate getting his feedback on new projects I am starting.
I included Christian symbolism in this piece, incorporating them in many aspects of the design. At one point, I was stumped on what to do with the sides of the upper roll top box. Using antique glass with carved leaves on the sides came to me in the middle of the night in a dream. That doesn't happen every time I am working on a project, but when it does, I follow that path.
Roger: I had already made the cross and it was nice but I wanted it to make a statement. I liked carving linens so I got the thought of hanging a carved linen on it. It did what I wanted it to do, people just want to look and read it. I even have small kids stop and take the time to read it. What a feeling.
What Legacy do you hope to leave behind in your work?
Mark: This is something I think about often. I am careful in selecting which projects I agree to take as commissions, as I can only build 4-6 major pieces of furniture a year. Over a lifetime, that doesn't leave a lot of room for misdirected paths.
I look for ways to connect with my customers beyond the woodworking tasks and cash flow, and I see the business as a ministry. This mindset affects my business significantly. I hope to be used by God to communicate with people on that level. I have been working hard to honestly document the Project Stories behind the work, so that my thoughts, worries, mistakes, and concerns are included in the anthology I will compile someday. I hope to be known someday as a simple woodworker that pursed his passion with a full heart, and depended on God to open the doors, and met some great friends along the way.
Roger: I hope that people will be inspired by my carvings and want to try and make their own. I approach each project the same, quality comes first and then quantity and I hope others will look at what I have done and see that. I hope that some day one of my Grand kids or great Grand kids will want to become a woodcarver just like their Grangpa or Great Grandpa.
How has working with wood changed your life?
Mark: The isolation of working in my shop alone has been helpful to quiet my spirit, allowing introspective time which has helped mold me more into what God is calling me to be. In past career choices, I was so busy answering the phones, preparing for meetings, and traveling, that I was unable to contemplate the big issues in life until a crisis hit. Woodworking provides not only a creative outlet, but has broken the addiction I had to being "busy" and "important" in this world. Woodworking also connects me in a unique way with people, proving a purpose for my life beyond just making sawdust, or money. I also enjoy the unique persona of being a woodworker in today's modern world.
Roger: As my mom would say, it has keep me out of the pool room, now I never knew what the pool room was but it sounds like it could have been trouble. I have been working with wood ever since I can remember and it really has keep me out of trouble all these years. After I started carving I found that I enjoyed giving away what I carved just to see a smile! That is what this world needs more of giving.
What part of the woodworking journey has been the most challenging for you?
Mark: I am learning that the skills associated with woodworking (design, proportion, joinery, and finishing) seem to be the easiest aspects for me. Making enough money to live on while doing these activities has been the most challenging. I have a hard time making choices that sacrifice the "art" for the finances, and so I struggle with the ongoing desire to spend more time on a project and produce work that is better and more detailed than my bids planned for. I hope for a day when I can create first, and then price the work when it is complete. Does that ever happen?
Roger: Designing has with out a doubt been the most challenging for me. I like to make my own original designs, and I have this fear that what will produce will not be acceptable by all woodworkers or woodcarvers so because of that I will spend 10 times as much time in the designing and drawing stages.
Who are your 5 most inspirational woodworkers?
Mark: This is a fairly easy question for me as long as I am not limited to 5 people.
Jesus of Nazareth: He was the Master Woodworker.
My Dad, Lawrence DeCou: He provided the genetics, the identification that woodworking is a viable activity, and the early training in skills and design. He has also encouraged me to pursue my passions full time, and has been supportive whatever direction that has been.
Sam Maloof: His work in the studio furniture movement has opened the door for many that will come after him. I hope the door doesn't close after him.
Marc Adams was very encouraging to me.
George & Mira Nakashima I will lump together as their combined writings have been an inspiration for me. David Marks is a favorite, and where would any of us woodworkers be today without Norm Abram paving the path?
Roger: My high school shop teachers, Tom Harris, Dean Ray, and Denny Miesle. Butch Hall my Grandfather and Bob Arnos my first residential construction boss.
My grandfather started it off for me. I would go down to his shop and see the things that he would make. I would ask him time and time again if I could make something and he would say you need to get a little older. When I got older I lost interest because of sports and less time for play. Then I took some high school shop classes and the fire started to burn again. These three shop teachers were the push that I needed to pursue working with my hands and heart. Unfortunately now days the high schools are dropping shop classes and are pushing students to go to college. What they don't realize is this world needs good woodworkers in it also. After high school my first boss in the construction field was a piece of work. I hate working with him at the time but admired his knowledge for construction and woodworking. The most important thing he taught me was if you are three and four steps ahead of everything else and you won't get behind. I use that approach to this day in what ever I do.
I conclusion I have been truly blessed to have those individuals enter into my life and pointed me in the right direction.
If you could project your work 10 years into the future, what would you like to see?
Mark: I would like to see more of who I am expressed in what I am building. I hope this means that my customers in the future will buy pieces I create after they are finished, or they will give me even more freedom to express myself in their commissions. To this end, I would enjoy seeing fewer customer limitations in both design and costing, allowing me to explore the depths of my abilities. I would like to see my relationship with my wife develop to a deeper level each year, and I would like to see my kids develop into their teen years without rebellious attitudes. I would also enjoy spending more time working wood with my dad.
Roger: I would like my woodworking and woodcarving to be my full time occupation. I also would like to make very high quality one of a kind artwork that is very much so desired by the public instead of taking commission work and making what someone else wants. Maybe only make three or four pieces a year.
Thank You!
Mark: I would like to give a heartfelt thanks for the LumberJocks website, it's community members, and the opportunity the website offers to show my work, and speak my heart to the Internet world. I am truly honored.
Roger: I would like to thank all who are a part of this great Lumberjock family. A special thanks to Martin because without this site I wouldn't have a chance to share my type of woodworking.
---