Yes, yes, today is my birthday… thanks for the post Debbie. And here's my birthday gift to LumberJocks ;)
You know how easily you can share the youtube videos or photobucket pictures. You just copy the embed code and paste it to your posts on the Web. Now we have the same comfort here on LumberJocks – let me introduce the one and only LumberJocks Embeddable Project Cards!
Each project page now features the Embed This Project box at the sidebar: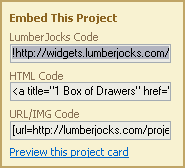 As you can see it contains following three codes:
LumberJocks code that you can easily use on this site
HTML code that you can use to display the project cards on your own website or blog
URL/IMG code in the BBCode format – it's one of the most used formatting codes on the Forums across the Web.
Just copy and paste the proper code to enjoy nice project card linked to the corresponding project post:
Don't just link to the LJ projects anymore – do it with style.
Each project card is worth 1000 words ;)
---