Few days ago, I decided to update the LumberJocks look. The header was becoming too busy with all the navigation links and that was the main motivator. And I wanted bolder and visually more appealing page titles as well.
After playing in the graphic design program and adjusting the code I ended up with the following new look and updates:
Tabbed navigation with the highlighted current section
All of the "my home, my…" links moved to just one drop-down menu that appears after clicking on the My LumberJocks button
What's Hot widget promoting the latest news (former announcements)
Search bar displayed at the top
Inverted colors on the main page title
Here's the screenshot of the expanded MY navigation: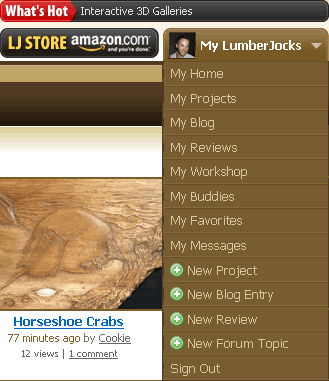 I didn't touch the design of the content elements at all so you should get used to this new look easily ;)
Enjoy!
---