Yes, we have Happy Tagsgiving here on the LumberJocks! I've just released major improvement of our tagging system including:
support for multi-word tags – this allows you to specify more precise tags like arts and crafts or miter saw. Note that you must now separate your tags by commas. Spaces will no longer separate tags, they will just inform the system that you're entering multi-word tag
helpful tag hints – you're going to love this ;) Together with Debbie we've prepared list of most common used tags for type, wood, skill, tool and style (these lists will be tweaked during the coming days). So all you need to do is click on any tags that are related to your project, blog entry or forum topic. They will be instantly added to your tag list. Then just type in any other relevant tags (not included in hints) and hit save. You may also use these tag hints as your Proper Tagging cheat sheet.
Here's how it looks: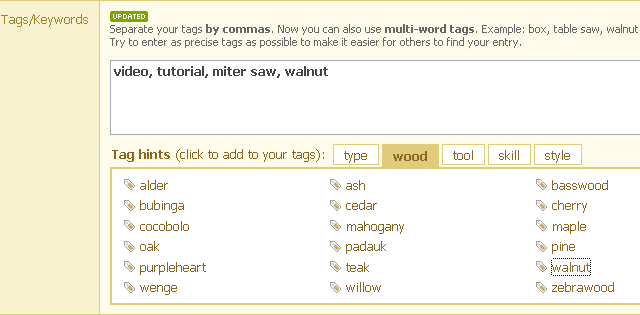 You might also notice the popular tags on the Projects pages sidebar. This goes hand in hand with the above mentioned updated. Right now it brings the most popular project type and wood tags right to your finger tips. I will be adding tool, style and skill tags soon.
As you can see tags are starting to get attention they deserve. They are great for natural categorization of the content. Our "tagging dictionary" is evolving as more and more content is added each day.
I have more tagging improvements in works – autosuggestion while typing tags, ability to combine tags in the searches etc. – so stay tuned. And if you didn't understand what those mysterious tags are all about, I hope that now you can see their potential. So go back to your postings and add those few tags here and there… maybe even few multi-words ones…
Happy Thanksgiving to all!
---