I am so glad I read Chris Schwarz's article Drawboring Resurected. I used that technique to assemble my mortise and tennon mirror frame today. I started out by making a doweling plate from scrap I had laying around. It has a large hole in the center that was already there and four new holes 1/2", 3/8", 1/4", and 3/16". After this I think I will add a 7/16" hole. I widdled some rough pegs and then drove them through the 1/2" followed by the 3/8" hole to make my pins for this project. Using a 7/16" as well would have improved the final pegs finish. The way I did it worked fine but it took some serious blows to drive them through the dowing plate. Here is my plate and some test pins.

I realized after the first few pins that I really did not need them this long, I made six new pins about an inch and a half long. Here is what they look like after driving them through and flush cutting them off.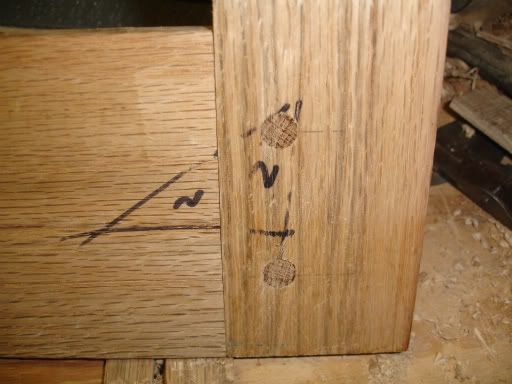 I couldn't believe how well this drew my joints together; everything is tight now and there is no give in the overall frame. I hope this will hold as well as I think it is going to and last after the glue has failed. Oh wait, I was so excited about doing this that I forgot the glue. There is no going back now so I guess I will call this a drawbore test to see how they do sans glue.
-- Mike, Western New York
---